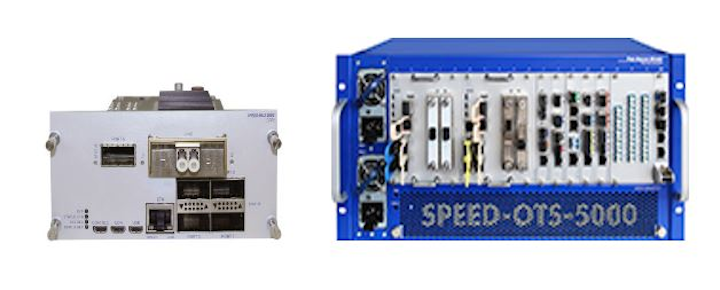 Germany-based Pan Dacom Direkt has announced the SPEED-MUX-200G-CFP2 card for its SPEED-OTS-5000 platform. The linecard offers a 1xCFP2 line side interface for 200-Gbps transmission of aggregated content via a single DWDM wavelength.
On the client side, the multi-protocol multiplexer card features six QSFP + or QSFP28 slots to support direct aggregation of 1/10/25/40/100 Gigabit Ethernet, 4/8/16/32G Fibre Channel, or 5/10/14/25G InfiniBand. The card also supports OTU-2 applications on the client side. Line side, the card offers transmission of two 100G OTU-4 services via a 50-GHz DWDM wavelength each or a single 200-Gbps wavelength. An integrated AES 256 Layer 1 encryption capability offers transmission security with the low latency and full data throughput, Pan Dacom Direkt asserts.
The SPEED-MUX-200G-2CFP also can be used as a dual 100G transponder card through the use of QSFP28 transceivers. This capability offers "pay as you grow" investment protection, as well as the ability to support smart backup by routing a second 100G data stream via a redundant fiber path.
Pan Dacom Direkt says the SPEED-MUX-200G-CFP2 card has already reached the field with customers in Germany and neighboring countries. The company believes the card will provide popular in data center interconnect applications, thanks in part of its support of Brocade ISL trunking according to the relevant Brocade compatibility matrix, as well as other applications where aggregation is required. Pan Dacom Direkt adds it plans to introduce a variant that could be housed in a 1RU chassis in the near future.
For related articles, visit the Data Center Topic Center.
For more information on high-speed transmission systems and suppliers, visit the Lightwave Buyer's Guide.