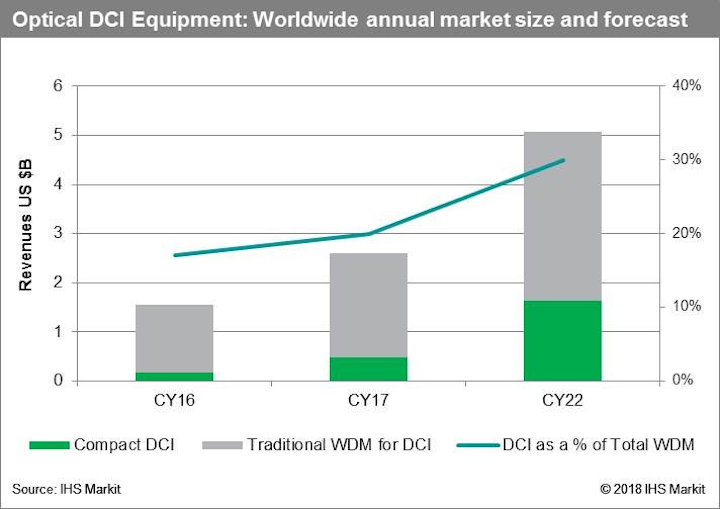 Optical DCI market grew 26 percent, reaching $2.6 billion in 2017
According to a biannual IHS Markit report, optical data center interconnect (DCI) hardware revenue increased by 26% worldwide year-over-year, reaching $2.6 billion in 2017. IHS Markit predicts that this market will surpass $5 billion in annual sales by 2022, representing nearly 30% of all wavelength division multiplexing (WDM) equipment spending.
"The optical DCI equipment market experienced very strong momentum in 2017," said Heidi Adams, IHS Markit senior research director, IP, and optical networks. "Moving forward we are forecasting continuing growth, as service providers, internet content providers, and enterprises make additional investments to connect expanding and proliferating data center facilities."
Within the optical DCI market, the compact DCI transport equipment sub-segment grew to $483 million in revenue in 2017, which is more than a 200% increase, says IHS Markit. The continual rise of digital transformation at enterprises worldwide, and the increase in video, enterprise applications, and additional content that is hosted and delivered through the cloud will cause ongoing growth in this segment.
Compact DCI equipment demonstrates an expanding industry trend toward optical equipment disaggregation, as different functions in the optical network can be addressed by open hardware platforms and connected via software-defined networking (SDN) controllers and applications.
"As disaggregated equipment configurations get proven out in DCI applications, we can see usage expanding to address other areas in metro optical and enterprise applications," said Adams.
Total optical transport network (OTN) hardware sales rose 4% year-over-year to a total of $11.3 billion in 2017. According to the market research and analysis firm, OTN transport has experienced a decline despite the growth of OTN switching as a percentage of total optical equipment sales.
Internet content providers ( ICPs) have standardized on Ethernet as the adopted technology to deliver sub-wavelength aggregation and switching, while traditional carriers prefer OTN. An important part of this decline can be attributed to the optical DCI emergence and web-scale ICPs influence, HIS Markit reports.
"With no legacy TDM traffic or connection-oriented services to support, the business case for introducing OTN services, OAM and/or OTN switching infrastructure is less apparent," said Adams. "As a result, a new class of 'OTN-free' WDM equipment, optimized for the requirements of web-scale and data center operators, has emerged."
The packet-optical transport system (P-OTS) segment revenue grew by 10% compared to the previous year, hitting $2.5 billion in 2017. The firm expects that as DCI becomes an essential application for optical networks in the future, the effect will be a pull-through for P-OTS platforms.The ability for P-OTS equipment to support both will make it an ideal platform for service providers to deliver DCI as a service, or to offer a combination of dedicated Ethernet and wavelength services for DCI, says the firm.
The biannual IHS Markit DCI, OTN and packet-optical hardware report covers worldwide and regional vendor market share, market size, forecasts through 2022, analysis and trends for OTN transport and switching hardware, packet-optical transport systems and data center interconnect equipment.
For related articles, visit the Business Topic Center.
For more information on test equipment and suppliers, visit the Lightwave Buyer's Guide.