SEPTEMBER 10, 2009 -- Infonetics Research's has announced figures from its second quarter (2Q09) PON and FTTH Equipment and Subscribers market share and forecast report.
"The PON equipment market got back on track this quarter, thanks mainly to China. Between China Telecom's ongoing FTTB rollout (where ZTE is currently out-shipping Huawei) and the kickoff of China Unicom's massive 11-million-line EPON FTTB/FTTN deployment, EPON spending shot way up in China in 2Q09, buoying the worldwide PON market, despite global declines in GPON and WDM-PON spending," explains Jeff Heynen, directing analyst for broadband and video at Infonetics Research.
PON and FTTH market highlights from the report include:
Worldwide PON equipment revenue (including BPON, EPON, GPON,and WDM-PON) is up 16% sequentially in 2Q09, to $584.1 million
The number of PON ONT port shipments is forecast by Infonetics Research to reach 24.5 million by 2013 (1.25G EPON, 2.5G EPON, GPON, and WDM-PON)
GPON equipment sales are expected to pick up in China as China Mobile, China Telecom, and China Unicom expand their trials to full deployments to support FTTH
The worldwide Ethernet FTTH equipment market roared back to life in 2Q09, jumping 108% to $150.5 million, led by deployments by the United Arab Emirates' Etisalat, Holland's Reggefiber, and Saudi Telecom
In 2Q09, Huawei eked past Alcatel-Lucent and Motorola to take the lead in worldwide GPON revenue share, in a market that has experienced vendor leaderboard changes rarely seen in equipment markets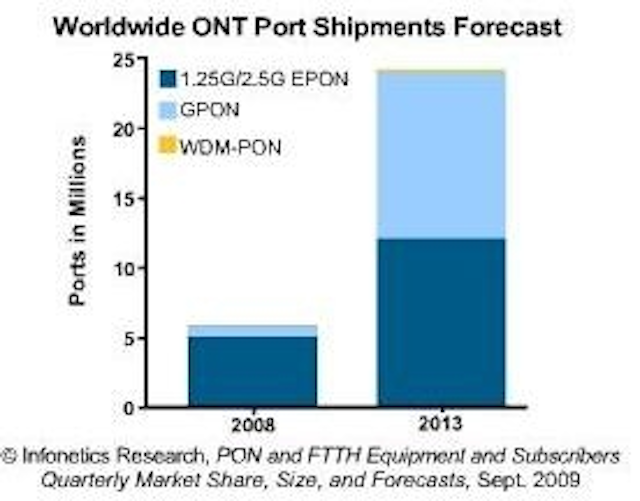 Infonetics' quarterly PON report provides worldwide and regional market size, market share, analysis, and forecasts through 2013 for BPON, EPON, GPON, and WDM-PON equipment;FTTH and FTTB OLTs and ONTs; FTTH equipment; Ethernet FTTH CPE and service provider equipment; and PON and Ethernet ports and subscribers.
Companies tracked include Alcatel-Lucent, Allied Telesis, Alloptic, Calix, Cisco, Dasan, ECI, Ericsson, FiberHome, Fujitsu, Genexis, Hitachi, Huawei, LG Nortel, Mitsubishi, Motorola, NEC, Nokia Siemens, Occam, Oki, PacketFront, Sagem, Salira, Sumitomo, Telco Systems, Tellabs, Tilgin, Ubiquoss, ZTE, and others.