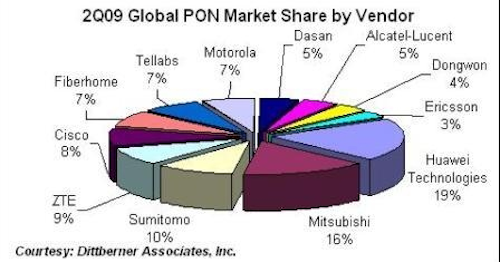 SEPTEMBER 4, 2009 - According to Dittberner's "DSL, FTTH and FTTB/LAN Shipment Analysis," Huawei was the leader in 2Q09 DSL, PON, and FTTB/LAN port shipments, the first time one vendor has led all three market categories. Huawei took PON leadership from Mitsubishi, which has led that category for the past three years; this is the first time a Japanese vendor has not been the PON leader since Japan launched its FTTH campaign in 2004.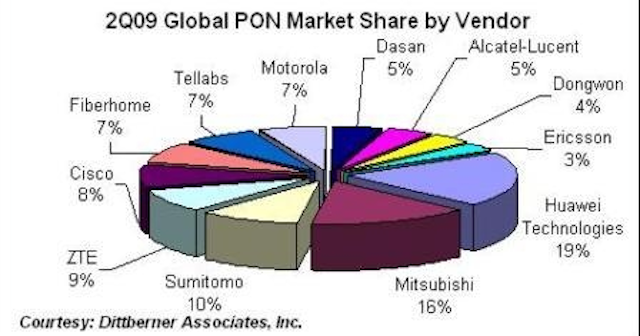 Figure 1. 2Q09 PON market share by vendor
The PON market includes ONTs, OLTs, and ONUs. Quarterly PON shipments were up 17 % quarter on quarter, just shy of the record quarterly shipment of 3 million ports. Three of the top six vendors were Chinese, reflecting the rapid growth of that market. This market's growth is also causing GEPON to take market share away from GPON and BPON as well.
It is the growth of China's FTTB/LAN market that is propelling Huawei into the lead in the PON market. Most of the PON deployments in China use GEPON and ONUs. The FTTB/LAN market more than doubled in the second quarter, and Dittberner expects it to set more records in the next few quarters.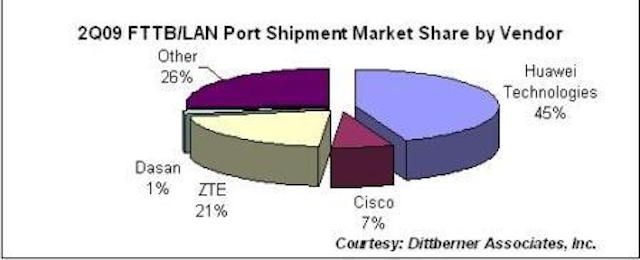 Figure 2. 2Q09 FTTB/LAN market share by vendor
Dittberner's Broadband Study is an ongoing market research service updated quarterly, designed to track the BBxDSL and BBFTTX vendors and their potential. The study constitutes business cases, case studies, and market forecast. Dittberner provides users of this service with fully interactive spreadsheets including actual and historical shipments.