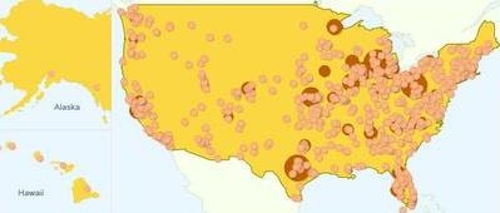 MARCH 29, 2010 By Stephen Hardy – With the deadline for communities to respond to its fiber to the home (FTTH) RFI having expired last Friday, March 25, Google says it is sifting through more than 1100 community responses and another 194,000 responses from individuals.

Google says will review the responses "over the coming months." This process will include narrowing the field of candidates, conducting site visits, and consulting with third-party organizations it declined to name. The company said it plans to reveal "our target community or communities" by the end of the year. Google reiterated its desire to serve at least 50,000 and potentially up to 500,000 people with its experimental network.

Speculation continues regarding what technology or technologies Google will use for its open-access network. Observers have noted that existing Active Ethernet infrastructures mirror what Google says it wants to do (see "Is Active Ethernet best FTTH option for Google?"). However, analysts have suggested that the company is performing due diligence by examining a number of options. Vinton Cerf, chief evangelist at Google, told attendees of the OSA/Lightwave Executive Forum March 22 that wireless technologies have not been ruled out as ancillary technologies to an overall FTTH strategy for areas where topology rendered fiber deployment impractical.

Google says it will provide a list of the government responses in the near future. Meanwhile, it offered the map below. Each small dot represents a government response; large dots represent locations where more than 1,000 residents submitted a nomination.