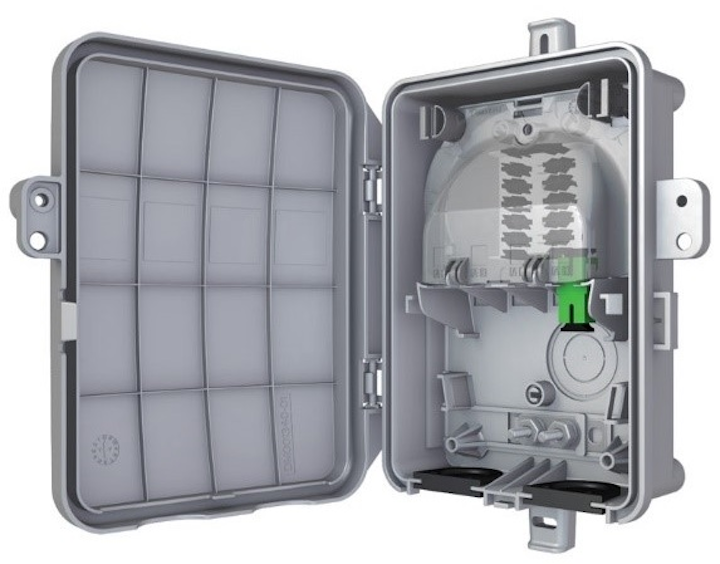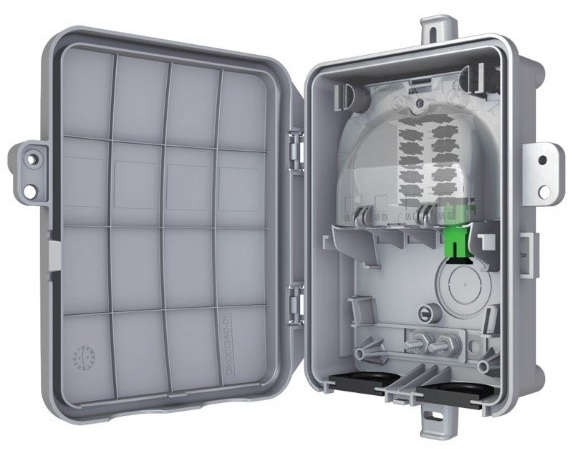 AFL has unveiled the OptiNID Duo fiber-optic demarcation enclosure. The enclosure integrates routing, splicing and connectivity features into its molded base to support multiple termination options for different FTTx applications.
The OptiNID Duo can house up to four SC simplex or LC duplex adapters as well as up to 18 single fiber or 6 mass fusion splices. The enclosure's base contains an insert that incorporates fiber routing, splice tray, adapter plate, and cable retention features. Option features of the OptiNID Duo include a clear splice/security cover for protecting provider-side connectors or a grounding plate for grounding armored or toneable drop cables. To extend its range of applications and enable a variety of entry accessories, the OptiNID Duo is available with two base cable entry options: a pair of U-shaped "drop-in" style grommets or two half-inch ports.
"Consumer bandwidth demand continues to rise, and with that, fiber-to-the-home deployments continue at record pace across the globe," said Will Miller, product manager for AFL's Outside Plant Connectivity products. "The OptiNID Duo will lower overall deployment time and overall cost to service providers by integrating features required for multiple termination options into a single, flexible housing. Additionally, different termination options and integrated mounting capabilities, including pole mount, make the OptiNID Duo an optimal choice for interconnection between cellular backhaul and small cell radios, such as those used in 5G densification initiatives."
For related articles, visit the FTTx Topic Center.
For more information on FTTx technology and suppliers, visit the Lightwave Buyer's Guide.