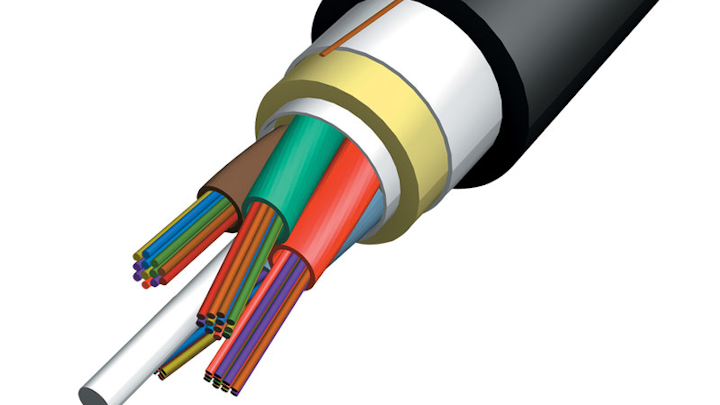 AFL has added a new Flex-Scan option to its single-jacket All-Dielectric Self-Supporting (ADSS) portfolio. As Flex-Span designs are optimized for a wider combination of fiber counts and span lengths, ADSS system designers now have more flexibility, the company asserts.
The new Flex-Span option's core configuration supports five buffer tubes of 24 fibers each for a total of 120 fibers. The configuration enables higher fiber counts in a diameter of less than 0.475 inches without compromising span length, AFL says. Use of smaller diameter fiber-optic cable can lessen pole loads without affecting hardware size.
Flex-Span ADSS cables, including those based on the new configuration option, don not need support or messenger wire, which AFL says enables installation in a single pass. The company says the fiber cable is suitable for distribution lines and necessitates the use of formed wire dead ends. Flex-Span also uses dry core technology, which obviates the need for flooding compounds.
Overall, Flex-Span ADSS cables come in fiber counts from 12 to 144, in any type or combination of single-mode or multimode fibers, AFL says. Operating temperatures run from 40˚C to +70˚C and pole-to-pole span lengths can range from 50 feet (15 meters) to more than 1,000 feet (305 m).
For related articles, visit the FTTx Topic Center.
For more information on fiber cable and suppliers, visit the Lightwave Buyer's Guide.