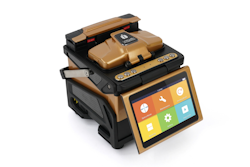 INNO Instrument
INNO Instrument America Inc. used last week's Fiber Connect conference and exhibition in Orlando, FL, to unveil the View 8+ core-alignment fusion splicer. The unit features a splice time of 6 seconds and a heating time of 9 seconds to enable rapid fiber splicing in applications such as fiber-to-the-home (FTTH) network deployments.
The View 8+ fusion splicer offers a variety of ease-of-use features, according to INNO sources at the show. These include automatic alignment and calibration within the unit's v-groove design, as well as the ability to alert the technician if one or both fiber endfaces are dirty. Other features include a 5-inch HD LCD monitor as well as INNO's Wi-Fi mobile application. The mobile application provides access to training videos, splicer management, data management, and report generating features. Managers can check technician progress via their smartphones through the app.
The unit also offers automatic arc compensation and a battery capacity of 355 splice and heat cycles. Technicians can receive an estimate of splice loss after each operation. The View 8+ splicer also can store records of up to 10,000 results.
"FTTH installations can be difficult and labor intensive," said Gil Perez, director of sales North America at INNO Instrument America Inc. via a company press release. "To ensure they are efficient and reliable, fiber optic cables need to be spliced and connected with precision and accuracy in a timely manner. The View 8+ is designed to increase the speed at which FTTH installations can become a reality across the world."
For related articles, visit the FTTx Topic Center.
For more information on splicers and suppliers, visit the Lightwave Buyer's Guide.