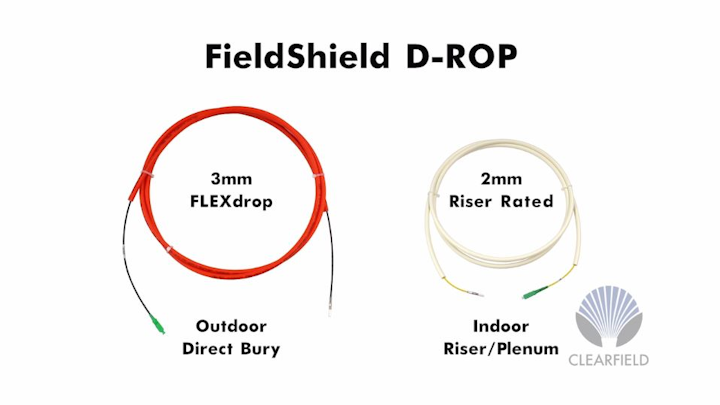 Clearfield Inc. video capture
Clearfield, Inc. (NASDAQ:CLFD) used last week's Fiber Connect event in Orlando, FL, to debut the FieldShield D-ROP pre-connectorized assembly, which combines cable and conduit in a single offering. Clearfield says the cable and conduit packaging enables a craft-friendly, durable and restorable drop fiber approach for in-building and outside plant applications.
FieldShield D-ROP comes with either 3-mm FieldShield FLEXdrop or 2-mm-riser rated cable in three configurations:
FieldShield D-ROP

–

Direct Bury or Aerial 7/3.7 mm

(available in bulk) delivers G657.A1 bend-insensitive 900-μm fiber in a ruggedized duct

FieldShield D-ROP –

Direct Bury 10/6

mm

is pre-terminated with SC or LC connectors and combines 2-mm fiber cable and FieldShield Microduct

FieldShield D-ROP -

Riser Rated 8.5/6 mm

is UL-2021 listed and is duct compliant to Telcordia GR-3155.
The D-ROP design makes it easier for technicians to address repair and replacement than traditional approaches, Clearfield asserts. Such activities can be completed more quickly and with a single truck roll, a potential 75% savings in opex, the company estimates. In repair scenarios, technicians run a new pushable assembly through a repaired microduct. Meanwhile, FieldShield D-ROP does not require the same slack storage as a flat drop cable as the microduct slack can be ring cut and removed, leaving only the pre-connectorized fiber assembly.
"Fiber deployments can be both time-consuming and labor-intensive processes that require a highly trained technician and splicing of the fiber," said Kevin Morgan, Clearfield's chief marketing officer. "We see demands for fiber growing at a rapid pace, and network providers are struggling to find solutions that are cost friendly and time efficient. Clearfield is focused on bringing solutions to market that ease the burden of fiber deployments and replacements and that is exactly what the FieldShield D-ROP fiber drop assemblies are designed to do."
The FieldShield D-ROP assemblies are available for shipment.
For related articles, visit the FTTx Topic Center.
For more information on fiber cables and suppliers, visit the Lightwave Buyer's Guide.