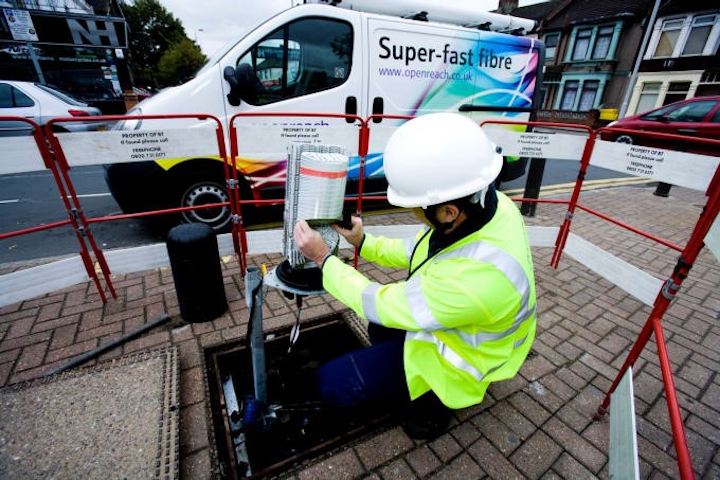 BT/Openreach
Fujikura Ltd. says it has received a contract from BT broadband network deployment subsidiary Openreach to supply its "Air Blown Wrapping Tube Cable" (AB-WTC) based on its Spider Web Ribbon fiber. The company says it also will supply its 70R+ mass fusion splicer and associated accessories as part of the award. Fujikura asserts it won the deal after what it describes as "an extensive technical trial," followed by a competitive tender process.
Spider Web Ribbon comprises an intermittently bonded 12 core optical fiber ribbon that forms a web-like pattern. Fujikura says the approach offers several benefits, including smaller cable size. The 70R+ mass fusion splicer enables splicing of all 12 fibers simultaneously. Use of the fiber cable and splicers together can reduce installation time by up to 80% says Fujikura.
"We want to get full fiber broadband to as many homes and businesses across the UK as we can, and as fast as possible," commented Openreach Chief Engineer Andy Whale. "To do that we need the right conditions to invest, but we also need to reduce our own costs and cut down the time it takes for our engineers to build the network without compromising quality.
"We can do that using innovative tools, techniques and network components like Spider Web Ribbon fiber cable. Its small compact size makes it perfect for using space that's at a premium in our underground ducts. It's also more flexible and easier to work with – so our engineers can splice multiple fibers at once – saving time and money," Whale continued. "This technology, along with numerous other innovations we're developing across our network build, will support our plan to reach four million households with full fiber by the end of March 2021."
Both the fiber cable and splicers are available in North America from AFL.
For related articles, visit the FTTx Topic Center.
For more information on fiber cables and suppliers, visit the Lightwave Buyer's Guide.
To stay abreast of fiber-optic network technology, subscribe to Lightwave's Service Providers Newsletter.