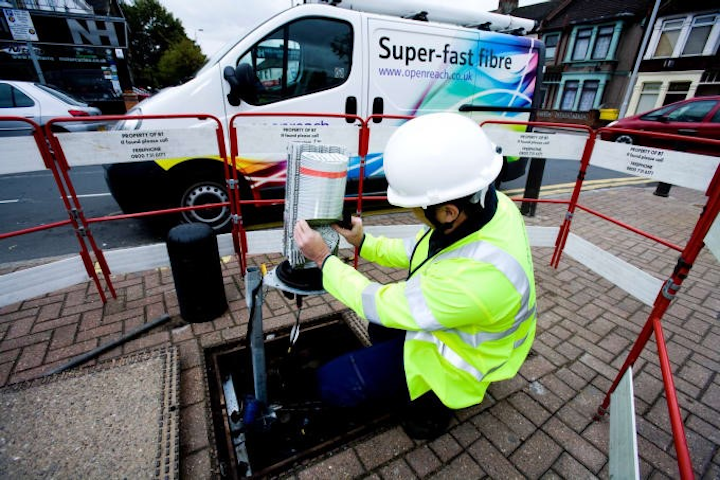 Openreach
Openreach, the broadband network subsidiary of BT, says it is conducting trials of fiber to the premises (FTTP) deployment techniques that may make it more economical to deploy "full fiber" networks in rural areas. The trials involve 13 UK rural communities.
The tools and techniques involved include the use of a diamond cutter trench digging tool. Openreach says the tool, which features a circular blade with diamonds embedded in the metal coating on its edge, can cut "a neat channel" through roads and sidewalks into which the machine that bears it feeds tubing for fiber-optic cables. Openreach estimates the machine can install 700 m of fiber-optic cabling a day, a figure more than 20X what a standard two-person team can achieve using traditional methods.
Openreach also is experimenting with the use of remote nodes – essentially, adaptations of existing roadside cabinets. Specialized equipment installed inside the cabinet enables fiber connections to extend by more than 1.5X their current reach, with the capacity to connect more than 1000 premises, says Openreach. The approach toward extending Openreach's existing network can save up to six months and the associated cost of deploying new fiber cables from an exchange to remote rural areas, the company says.
The infrastructure company also will trial the use of ground-penetrating radar to help pick the most obstacle-free trenching route; micro ducting as implied above; an Openreach developed planning tool called Orion; and the "GeoRipper," a piece of digging equipment used for digging trenches across soft ground such as fields. GeoRipper features a chainsaw-like blade that carves a narrow trench in which engineers can lay small fiber cables of up to 150 m. Openreach says use of the GeoRipper offers a 10X improvement in trenching speed versus a manual approach and "leaves everything much tidier," in the words of a company press release.
"In recent years we've been extending our full fiber network into rural areas – mostly in partnership with local authorities and Government - but the economics are clearly challenging and we want to do more. We know that around 10% of the country will need to the support of public subsidy, but these trials will help us test a bunch of new techniques that could help us in other rural areas," commented Clive Selley, Openreach's chief executive. "The trials will also give us a much clearer picture of what the technical challenges in these kinds of rural areas are. We hope they'll go a long way towards developing the tools, skills, and innovations required to make sure that nobody's left behind in the full fiber future."
As part of the trials, Openreach will deploy FTTP to 50,000 homes and businesses in villages and market towns from Scotland to Devon, including: Cranfield; West Calder; Flockton; Hesketh Bank; Kentford; Lingfield; Lundin Links; Mickle Trafford; Okehampton; Ottery St Mary; Parbold; Seal; and Tarporley. FTTP infrastructure installation across the 13 locations is expected to be finished for just over half the targeted customers by the end of March 2020.
For related articles, visit the FTTx Topic Center.
For more information on FTTx technology and suppliers, visit the Lightwave Buyer's Guide.
To stay abreast of FTTx advances, subscribe to Lightwave's Service Provider Newsletter.