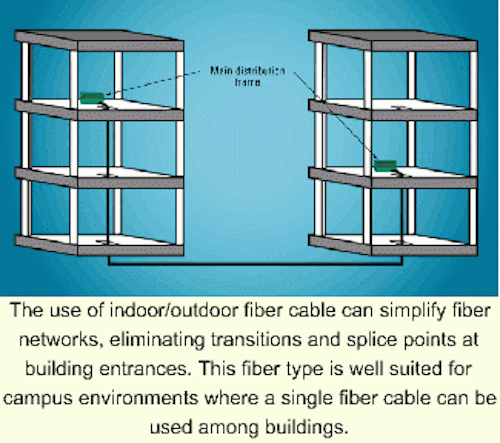 Premises Networks
Use of specially constructed optical cabling provides new options for more efficient use of fiber and simplified installation.
DAN SILVER, 3M
The use of indoor/outdoor fiber cable can simplify fiber networks by eliminating transitions and splice points at building en trances. As more campus environments are moving to fiber-based WANs and LANs with collapsed backbones, the use of this specially constructed cable provides new options for more efficient use of fiber cables and simplified installation.
With the use of a traditional fiber-cable arrangement in the premises, National Electric Code (NEC) guidelines require that outdoor cable be transitioned to indoor cable within 50 ft of the cable entry point. This transition is necessary because traditional fiber-optic cable capable of withstanding the outdoor environment does not meet NEC standards for flame retardancy and smoke. Likewise, cable designed for use in the premises does not meet environmental specifications and is generally not suited for the stresses encountered outdoors.
Loose-tube gel-filled cable is normally used for outdoor runs, while tight-buffered cable is used indoors. This loose-tube type of cable is difficult to splice or terminate due to the gel fill and requires extensive fiber handling. Care must be taken in handling the cable to avoid damage to the individual 250-micron-coated fibers while removing the gel.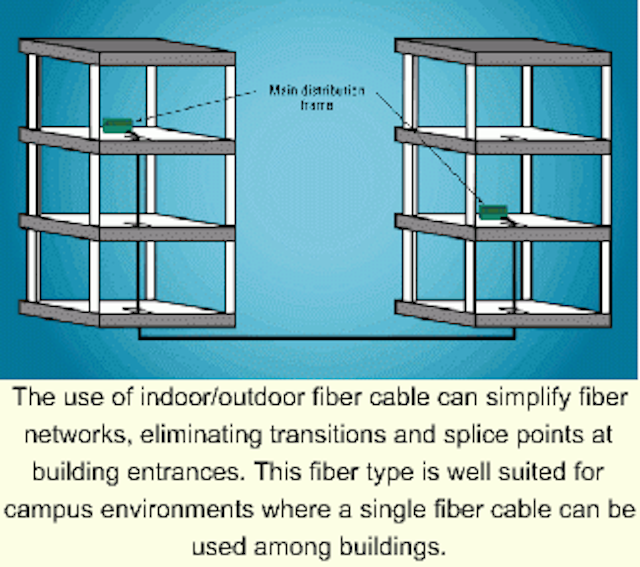 The use of indoor/outdoor fiber cable can simplify fiber networks, eliminating transitions and splice points at building entrances. This fiber type is well suited for campus environments where a single fiber cable can be used among buildings.
It is necessary to individually clean each fiber to remove the gel. In the final termination, all fibers must either be spliced to pigtails or fed through the tubes of a breakout kit if connectors are used. Once the termination is completed, transitions must be protected with either a cabinet or a splice case, requiring additional space in the premises and incurring costs for the housings.
The alternative to transitioning between different types of cable is through the use of a relatively new class of cabling that meets both indoor and outdoor requirements. This new cable design, enjoying growing acceptance in recent years, incorporates several advancements in materials technology. One is the use of sheathing materials that are UV-rated, resistant to fungus, and capable of withstanding outside environments as well as meet NEC requirements for cable placed inside a building.
Aramid yarn impregnants, or super-absorbent polymers, constitute another advancement. They absorb moisture and swell to close leaks, preventing water from entering the cable core or damage to the fiber when the outer sheath of the cable is penetrated.
Indoor/outdoor fiber cable designs vary by manufacturer, with some using a tight-buffered fiber construction. One recently introduced cable uses two 250-micron-coated fibers placed in a 900-micron outer-diameter buffer tube. The benefit of having two fibers per tube is for compatibility with small-form-factor connectors such as the VF-45 interconnect.
This configuration also provides a very small, compact cable with a higher fiber packing density than any tight-buffer cable. The duplex fiber configuration provides the necessary transmit and receive connections for the desktop. It also allows for duplex cable preparation and fiber handling, so two fibers can be terminated at once.
The new indoor/outdoor cable is offered in two versions. One design is a non-water-blocked cable optimized for centralized cabling and indoor/outdoor duct. The other, which has maximum moisture-block capabilities without being gel-filled, is designed for use in conduit underground, as well as in doors, and is optimized for extensive outdoor runs or where water is generally present. The new indoor/outdoor cable is available in 62.5-micron and 50-micron multimode and singlemode fiber in 2- to 144-fiber configurations.
The elimination of splices or terminations at the entrance of each building the cable connects is a source of cost savings using indoor/outdoor cable. The cable can run directly to the first point of presence, such as the patch panel, main equipment room, or telecommunications room, using a single cable. That reduces the cost of installation, saving several hundred dollars per fiber in components and labor, by eliminating the need for a splice or connector in both buildings near the cable entry point. This type of cable can also improve the performance of the fiber plant by eliminating a possible point of failure in the network and the associated time and money for troubleshooting an additional splice.
Eliminating a pair of splices or terminations on each line reduces power loss that can mean the difference between passing and failing the certification test for Gigabit Ethernet. Splice points can add attenuation to the link that may have a significant impact on high-speed networking applications. It's important to note that the loss budget-the allowable loss through the fiber cable plant-is much tighter with Gigabit Ethernet than with 10- or 100-Mbit/sec Ethernet.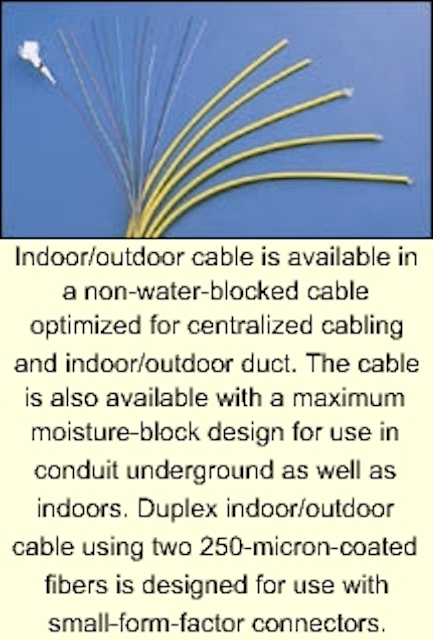 Indoor/outdoor cable is available in a non-water-blocked cable optimized for centralized cabling and indoor/outdoor duct. The cable is also available with a maximum moisture-block design for use in conduit underground as well as indoors. Duplex indoor/outdoor cable using two 250-micron-coated fibers is designed for use with small-form-factor connectors.
In the past, most fiber cable used in LANs could pass certification with loss budgets as high as 5 or 10 dB. In both 1000Base-SX and 1000Base-LX, the actual link-loss budget is 7.5 dB, but that needs to account for the effects of both attenuation and dispersion. With dispersion factored out, loss budgets for Gigabit Ethernet are as low as 2.35 dB. With a typical loss of 0.5 to 0.75 dB per connector pair, many installations can be close to the limit, even if they are done perfectly. In some cases, the splices and terminations required to transition from indoor to outdoor cable can raise loss to the point that the cabling could fail certification testing.
Since this type of cable is ideal for campus LAN and WAN applications that require transitions among buildings, indoor/outdoor cable is especially suited to primary- and secondary-school campus applications and universities where the real estate to house cabinets and closures for splice points is at a minimum. It is also well suited for use among temporary buildings or where cabling is housed in aerial conduit on the campus. While this cable is
not recommended for direct-buried applications, the cable can be used nearly anywhere cable is placed outdoors through buried conduit. Use of this cable type is expected to continue to grow in educational campus environments as well as other campus-type installations.
Indoor/outdoor cable is also commonly used in the construction of new multifamily housing complexes or smart apartments cabled for high-bandwidth services. This application is ideal to support cabling between network electronics, which are usually housed in a clubhouse or main building, and multiple buildings or units spread across a housing complex. By eliminating the need for a crossconnect in each building, cable deployment is simplified.
When used in combination with centralized cabling, indoor/outdoor cable adds to the simplicity of network design and space savings by combining telecommunications-closet reduction and closure and cabinet reduction in the premises. This approach yields substantial cost savings in providing fiber direct to the desktop versus the traditional approach based on limited-distance, horizontal copper runs. The key to these savings is the dramatic reduction in the size and number of telecom rooms and other space required.
The duplex, multifiber cable configurations available for indoor/outdoor cable also allow network designers to choose the specific cable count needed for the job. The bundled cable configuration allows several cables to be easily split off and run to a patch panel as needed. The elimination of breakout kits makes this process extremely easy. The cable design can allow multisheath cables to be pulled at once and enhances cable management. In addition, cables are easier to arrange and protect and available in hybrid configurations.
Indoor/outdoor fiber cabling provides added flexibility for using fiber throughout the network. With the adoption of one type of cabling through out the campus environment, the infrastructure is faster to install and easier to maintain. This new option also saves critical power budget and extends the length of cable runs by eliminating splice points to take advantage of the long- distance benefits of fiber.
While cost savings by reducing time and materials are also important benefits of this cabling solution, the cabling itself is comparably priced with fire-rated and gel-filled cable that would otherwise be needed. More important, the duplex, multifiber cabling configuration dramatically improves the way fiber is deployed throughout the network and is optimized for small-form-factor solutions. Indoor/ outdoor cable provides another important tool for making the application of fiber-based campus networks an ideal solution for many organizations.
Dan Silver is a market development manager for Volition Network Solutions at 3M (Austin, TX).