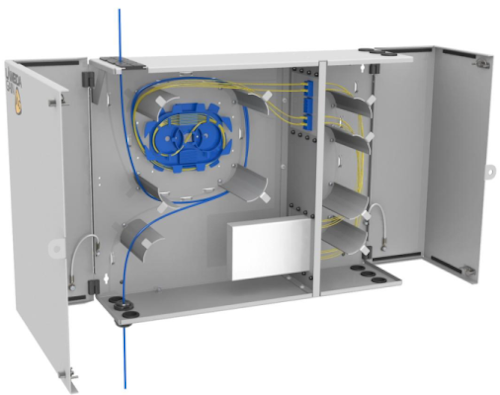 Fonex offers the LambdaGain "3-in-1" enclosure that combines fiber termination, passive xWDM multiplexing/de-multiplexing, and fiber interconnection capabilities into a single unit. The enclosure family, which comes in three sizes, reduces costs and footprint, Fonex says.

Each version of the LambdaGain 3-in-1 enclosures features stackable splice trays and the ability to park cables and patch cords with IDs, Fonex adds. They offer separate access doors for fiber termination and interconnection, the ability to remove doors for easy access, a security hasp that can accommodate a variety of locks, and support of the LGX form factor.

The large version of the enclosure will accommodate four LGX CWDM passives with room for 3-m fiber pigtails for splicing. The orientation of fiber is counter-clockwise. The medium version supports two LGX CWDM passives, with riser terminations directly on the right. The small version can accommodate a variety of configurations. These include one LGX CWDM passive and a splice tray, two LGX CWDM passives, or two splice trays. Riser terminations are directly on the right as well.

For more information on fiber enclosures and suppliers, visit the Lightwave Buyer's Guide.