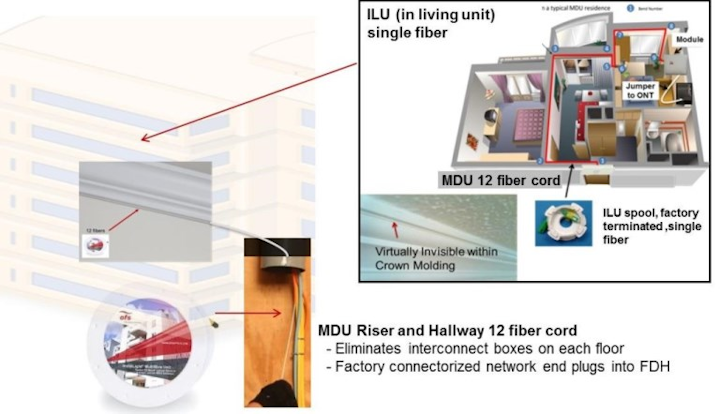 As fiber to the home (FTTH) builds accelerate globally to meet growing bandwidth needs, service providers are looking to install optical fiber not just to, but also into the home for residential subscribers. For residents and businesses in buildings, optical fiber also will be installed throughout the building to reach each subscriber's unit. Placing fiber deep inside the living unit connected to an indoor optical network terminal (ONT) for each subscriber facilitates access to power outlets, and Wi-Fi coverage, so that subscribers can enjoy gigabit speeds and beyond.

Service providers globally seek to leverage these benefits. In response, the major FTTH equipment providers are now offering indoor ONTs. In some cases these ONTs are integrated with a residential gateway and Wi-Fi router. But there remains a missing ingredient to the indoor ONT system: How does one place fiber inside the living area to the indoor ONT?

The right option for fiber to the unit

A complete portfolio of indoor fiber technology for the living unit and building is needed, as buildings vary in design, materials, and available pathways. But regardless of building construction, building owners and residents alike require fast and invisible optical fiber installations that don't disrupt either lifestyle or décor.

In many buildings, pathways or hidden ducts that conceal optical cabling are non-existent; such ducts can be expensive to install in existing walls. Installing traditional cable molding or duct systems also can be slow and expensive, and may be rejected by building owners. Installers could opt to staple 5-mm "ruggedized" drop cables using ultra-bend insensitive optical fiber. But unless they are hidden in moldings or walls, these are often rejected due to their unsightly appearance. And while fishing cables behind walls does hide the drop cables, this "cut and patch" approach may be very slow and expensive, and is impractical in buildings constructed of masonry (Figure 1).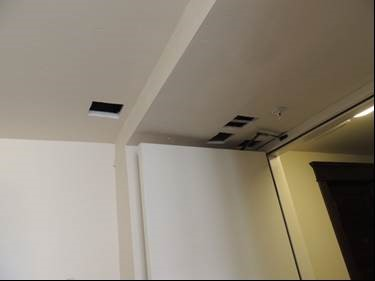 Figure 1. In some buildings numerous holes must be cut to pull
in fiber cables, then restored.
The industry has responded to this challenge with a new generation of low-visibility in-living unit (ILU) technology that uses tiny buffered fibers of about 1 mm in diameter, surface mounted to the walls, to make the final indoor drop connection to the ONT. Recently, complementary multiple dwelling unit (MDU) products have appeared that can be installed both in the riser and hallway to reach living units, so that low-visibility fiber deployment throughout the building is possible.

ILU in the MDU

Installers can deploy ILU cabling with a fast and simple process similar to caulking to attach a tiny optical fiber in the grooves between ceilings and walls, baseboards and walls, and in the corners between walls. Regardless of the location, the fiber is virtually invisible to the human eye.

Installers place an interconnect module containing a small spool of factory-terminated 0.9-mm buffered optical fiber near the desired indoor ONT location – usually close to a power outlet (Figure 2). A thin bead of adhesive is applied, the fiber is pressed into the adhesive, and the adhesive dries clear. The result is a continuous lengthwise attachment of the fiber so it stays in place long term without the scalloping or sagging that can occur with clip and/or adhesive dot based approaches. The adhesive used is tested to assure proper adhesion between the buffered fiber and common indoor surfaces with temperature and humidity variations, and avoids discoloration with UV exposure. It can also be painted or caulked over if the subscriber chooses, and repositioned after installation if needed.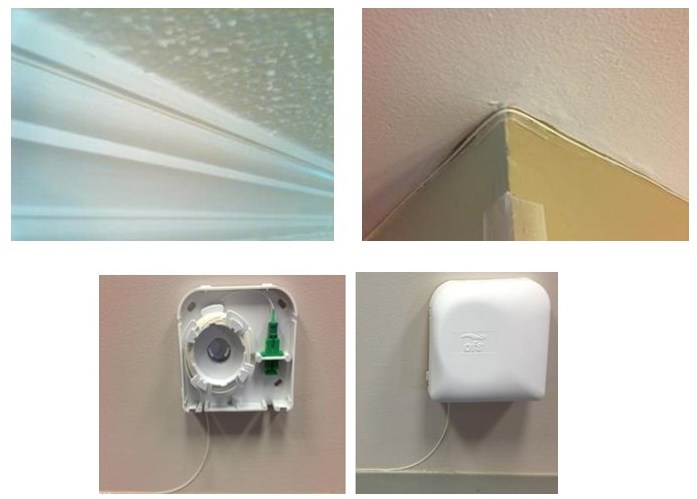 Figure 2. Views of installed ILU solution. At bottom is shown an interconnect module from which a jumper can be plugged to reach the ONT.
The ITU-T 657.B3 optical fiber used for this application is rated at a 2.5-mm minimum bend radius to allow installers to wrap it around dozens of corners along the path to the ONT without breaking or incurring service-disrupting bend loss. Depending on the ONT architecture, the factory-terminated connector on the subscriber side may be plugged directly into a wall-mount ONT or into a wall module; from the wall module, a jumper is used to connect the ONT. This simple process places fiber deep into a living unit quickly and without disrupting the décor or the resident.

The MDU complement to the ILU family leverages the same technology in a fast-to-install, practically invisible multi-fiber cord that can be surface mounted in hallways and between floors to connect subscribers to ultra-high-speed services. Designed for both riser vertical and horizontal installation in building hallways, the MDU cord has 12 optical fibers packaged together. Since it also uses fiber with a 2.5-mm fiber bend radius, the MDU cord can be routed around the many corners and obstacles that can exist in MDU hallways (Figure 3).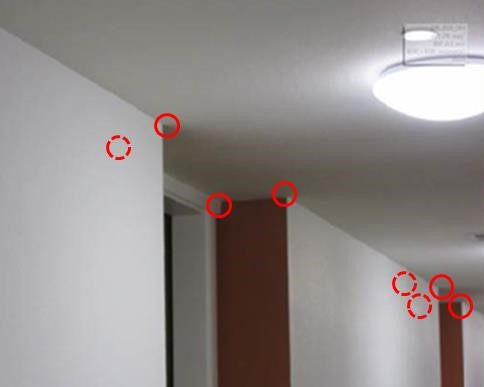 Figure 3. Four corners per door is common for MDU hallways.
A point-of-entry wall module is placed above each apartment or office in which a dedicated, color-coded strand of optical fiber for that living unit is extracted and terminated into a connector for easy plug-and-play to fiber installed on the inside (Figure 4). On the network end the installer can plug or splice the MDU cord into an interconnect enclosure or fiber distribution hub (FDH).
Figure 4. MDU fiber as installed.
It is also possible to install a low-visibility fiber network throughout an entire building, from the main distribution frame, up the riser, down hallways, and into each living unit to the ONT. Such an approach offers a standardized installation process and eliminates the need for the riser-to-horizontal transition enclosures used with traditional approaches. It reduces pathway creation by using existing riser spaces vertically, and surface mounting horizontally all the way to the ONT. Such a "whole building" installation is depicted in Figure 5.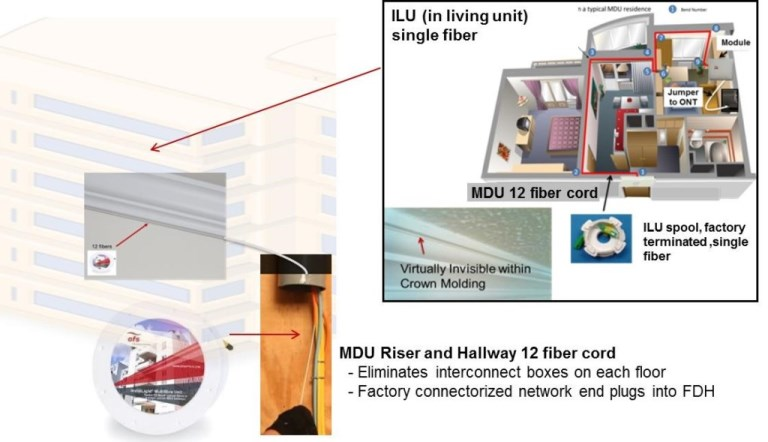 Figure 5. Whole-building low-visibility network example.
These ILU and MDU options may be used in non-residential multi-user buildings as well as MDUs, with the individual subscriber office or facility conceptually taking the place of the individual ILU.

Low-visibility in-building fiber technology can revolutionize the speed and ease of installing optical fiber in building and living units. Service providers are often drawn to this approach by enhanced customer experience, minimal disruption, faster installation, and reduced labor costs. In addition, with greater subscriber acceptance, increased take rates help speed time-to-revenue for service providers and accelerate the spread gigabit speeds to subscribers.

John George is director, solutions and professional services and can be reached at johngeorge@ofsoptics.com; Anurag Jain is FTTH solutions manager and can be reached at ajain@ofsoptics.com; and Laura Werner is marketing communications manager at OFS and can be reached at LWerner@ofsoptics.com.