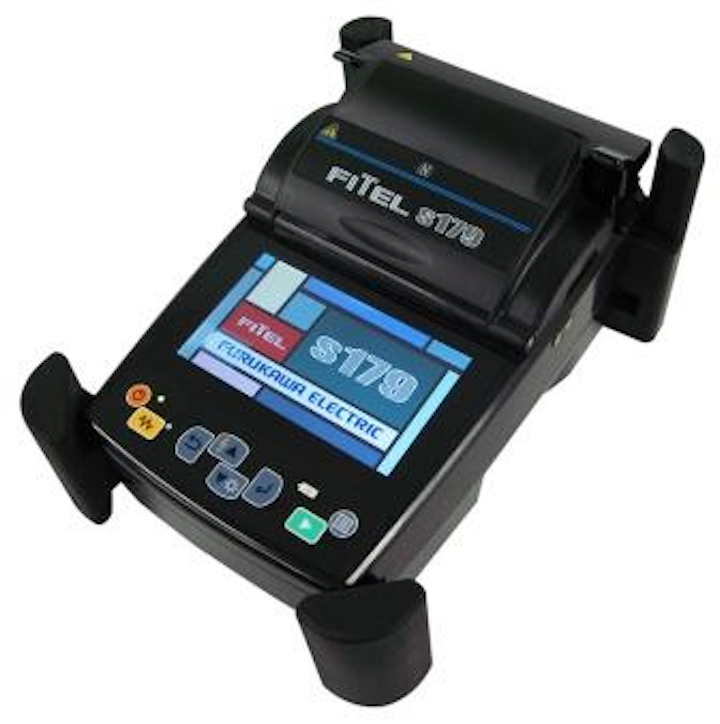 Furukawa Electric and OFS (an authorized distributor of FITEL products in the Americas) used this week's FTTH Connect conference in Nashville to unveil the FITEL S179 Hand-Held, Core Alignment Fusion Splicer. Designed to accommodate all metro, LAN, and FTTx fibers, the S179 combines speed, precision, durability, portability, and communication capabilities to meet connectivity requirements in harsh environments.

The FITEL S179 fusion splicer's battery supports 200 splicing cycles (splicing/heating) in a single charge. It also offers several ease-of-use features:

a 4.3-inch wide LCD screen with touch panel
a proportionately wide splicing chamber that makes optical fiber easier to load
3 +1 LED lights illuminate the entire splicing chamber for improved operation in low-light conditions
a detachable left-side V-groove makes cleaning and maintenance easier.

The fusion splicer's low profile and light weight enhance portability, while its canopy design and ruggedized body provide resistance to shock, water, and dust exposure. Its high-propulsion motor (8N) helps ensure stable splicing of even the most rigid indoor and drop cables, the companies add. Internal battery charging, embedded Near Field Communication (NFC), and smartphone readiness are among other features of the splicer, they add.

For related articles, visit the Network Design Topic Center.

For more information on splicers and suppliers, visit the Lightwave Buyer's Guide.