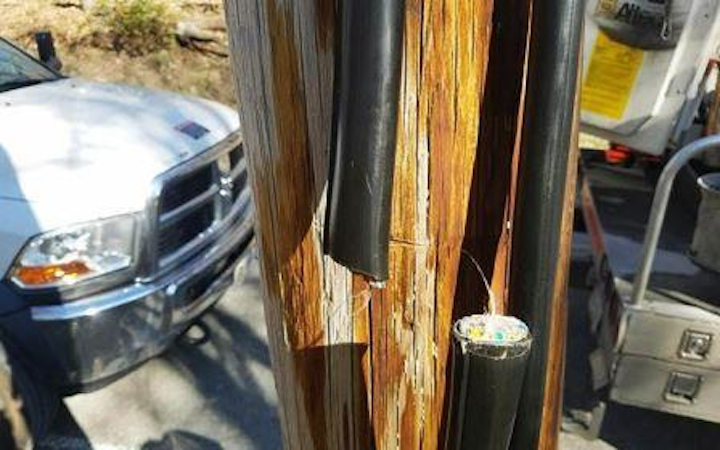 Verizon, which previously had reported 24 incidents of network asset destruction in five states in the wake of a work stoppage among its East Coast wireline employees, says that tally has more than doubled to 57 across seven states.

Approximately 40,000 members of the Communications Workers of America (CWA) and the International Brotherhood of Electrical Workers (IBEW) launched a strike against Verizon this past April 13 over lack of progress in reaching a new labor agreement (see "Verizon wireline workers eye strike April 13"). A similar job action in 2011 coincided with an increase in network vandalism (see "Verizon alleges sabotage while strike goes on"), and Verizon quickly reported similar acts last week (see "Verizon reports network sabotage in strike areas").

Verizon hasn't directly accused striking workers of committing the acts, but has drawn attention to the fact that network asset damage has increased sharply since the strike began. A Verizon press release described such asset damage as "rare under normal circumstances."

The company provided several examples of network sabotage since April 13, most of which involves cutting fiber-optic cables:

Cables that supply 911 emergency services in Salisbury, MA, were sliced April 15
On April 27, three separate incidents occurred in Hockessin, DE, at fiber hub locations; fiber cables were severed in multiple locations.
Verizon reports 17 incidents of suspected sabotage in New Jersey since April 13, primarily in the northern part of the state.
15 incidents are under investigation in New York.
In Pennsylvania, 10 incidents are under investigation, including suspected arson involving a fire-damaged terminal in Drexel Hill.
Cables in Virginia have been severed or equipment stolen in eight incidents.
Fiber cables were ripped from a hub in Brandywine, MD, on April 22.

"Initial investigation and evidence show that all these incidents involve the deliberate and willful destruction of critical communications facilities," said Michael Mason, Verizon's chief security officer. "We suspect violations of federal law, and Verizon is working with authorities to pursue criminal charges."

Verizon has offered up to $10,000 for information that leads to the arrest and prosecution of anyone who intentionally damages network assets.

Neither the CWA nor the IBEW have released comments on Verizon's sabotage claims. However, the CWA has asserted that replacement workers Verizon has employed during the strike are not using safe labor practices and therefore are putting themselves and the public at risk.

For related articles, visit the Network Design Topic Center.

For more information on fiber cables and suppliers, visit the Lightwave Buyer's Guide.