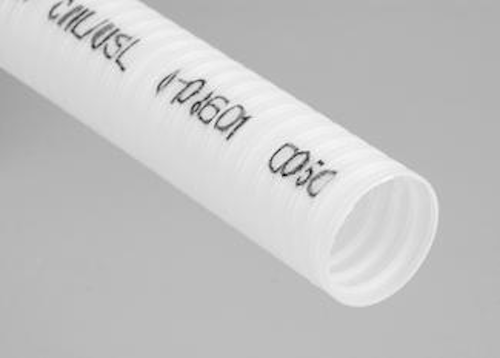 JANUARY 14, 2008 -- As a part of its flame-retardant conduit product line, cabling installation product manufacturer ARNCO Corp. (search for ARNCO) offers Fiber-Guard plenum, which is flame-retardant and easy to install.

Fiber-Guard plenum is used as a nonmetallic flexible raceway for protecting optical fibers in accordance with NEC articles 770 and 800.
ARNCO says the flexible and lightweight design makes it easy to install and maneuver around obstacles that may be encountered in areas requiring plenum. The plenum's corrugated wall provides high crush resistance for long-term protection and also reduces surface contact between the conduit's inside wall and cable jacket, helping to lower cable installation friction. The plenum is pre-installed with 1,000-lb tensile Bull-Line aramid pull tape to further help in reducing cable installation costs.
Available in either white or orange for easy identification, Fiber-Guard Plenum is available in diameters of 1, 1-1/4, 1-1/2, or 2 in. to accommodate specific fiber cable diameters. Sequential footage marking and product identification are printed every 2 ft on the plenum, which has standard lengths ranging from 250-ft coils to 5,000-ft reels.

"Plenum-rated raceway provides superior protection, lowers installation costs, and simplifies future building upgrades over traditional metallic conduit systems," claims Tom Stewart, director of conduit products, ARNCO.

Visit ARNCO