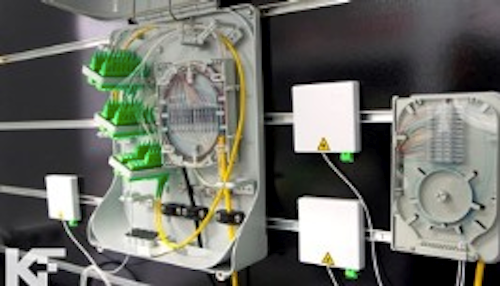 Fiber to the home (FTTH) connectivity specialist KeyFibre says it plans to use the FTTH Council Europe's upcoming FTTH Conference 2014 in Stockholm, February 18-21, to launch a range of new products, as well as a new division.

The advancements on display at booth S28 will include:

New pre-connectorized fiber-optic distribution and termination boxes for building entry point and floor distribution point applications.
A new range of FTTH fiber-optic cable that complies with ITU G657 A/B standards. The cables are part of KeyFibre's new Optical Cables Division.
The Intelligent Cassette System, a modular, easy-to-use system that comprises a small number of components that can be assembled without tools. Besides reducing the requirement for a significant degree of skill, the design reduces the chance of human error and considerably reduces total fiber link loss through a reduction in the number of required splices or connectors, KeyFibre asserts. The cassettes come in different configurations, including some with the company's KeyQuick Splitter and KeyQuick Pigtail, both pre-connectorized in cassettes or splice trays and using KeyFibre's KeyQuick Technology.

The company also will display its existing Mechanical System line of fiber-optic connectors, mechanical splice, wall outlets, building distribution and termination boxes, patchcords and pigtails, and fiber-optic installation kit.

For more information on fiber-optic cables and accessories, visit the Lightwave Buyer's Guide.