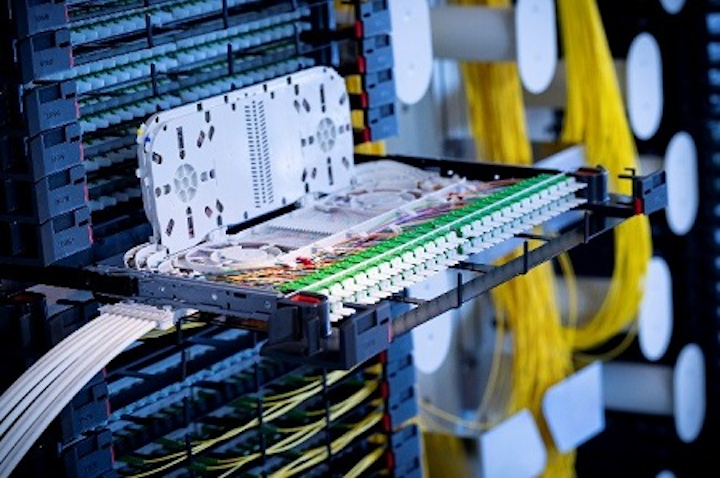 Swiss optical passive technology company Reichle & De-Massari AG (R&M) has introduced the PRIME ODF (Professional Interconnection Management Equipment Optical Distribution Frame to the U.S. market. The PRIME ODF offers flexibility via a module-based design as well as the ability to manage up to 5376 fibers. It targets fiber to the home (FTTH) operators who wish to tailor their optical distribution hubs for both today's and tomorrow's requirements, according to R&M. The platform also would prove beneficial in data center and mobile backhaul network applications, the company adds.
Operators can deploy the PRIME ODF in above-ground street cabinets, basements, main distributor frames, central offices, and point of presence sites. As many as 14 modules can fit within a 19-inch or ETSI rack. A tool-free design means no tools are required for assembly in R&M ETSI racks. The PRIME ODF modules can be assembled from the front or back of 19-inch racks.
The PRIME ODF also can be configured into sub-racks, each of which can accommodate four PRIME ODF fiber units. The fiber units can be configured for fiber-optic termination, for splice and breakout cabling, or for patch cord and overlength storage. With use of R&M's LC adapters, a PRIME ODF module can accommodate as many as 5376 fiber-optic connections.
"PRIME ODF provides the highest fiber density with modularity, flexibility, scalable costs, easy installation, and migration into new and existing network infrastructures," asserted Dieter Studer, marketing manager, R&M USA Inc. "These features improve network planning and the safety of fiber and cable management during network operation and maintenance."
For related articles, visit the FTTx Topic Center.
For more information on fiber management systems and suppliers, visit the Lightwave Buyer's Guide.