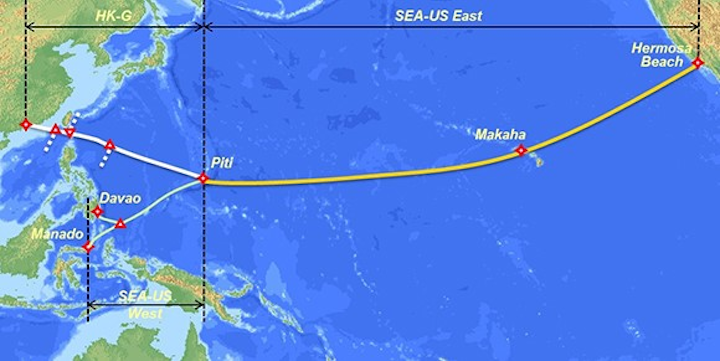 RAM Telecom International, Inc. (RTI) and NEC Corp. (NEC; TSE: 6701) say that the Southeast Asia - United States (SEA-US) fiber-optic cable system is ready for commercial service, and that construction of the interconnecting Hong Kong - Guam (HK-G) cable system extension has begun.
In April, RTI-C and NEC Corp. announced that the latter as the HK-G extension system supplier (see "RTI-C, NEC launch of Hong Kong-Guam submarine cable construction"). According to NEC, HK-G's marine route survey has now begun, which will provide information required to determine engineering of the final route. The 3,900-km HK-G will land in Piti, Guam at the same facility used for SEA-US, the recently finished Teleguam Holdings LLC (GTA) cable landing station.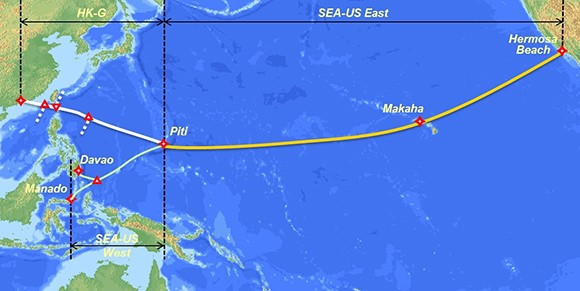 SEA-US Cable Route and HK-G Extension
"Transpacific capacity demand will continue to outweigh existing supply for many years to come, and RTI's SEA-US investment is now providing essential route diversity capabilities and onward connectivity options for our clients," said Russ Matulich, RTI's president, and CEO. "Initiating the HK-G marine route survey is an important milestone towards our goal of providing fully diverse transpacific connectivity. Once completed, HK-G will seamlessly interconnect with SEA-US, allowing customers to not only diversify their traffic between Hong Kong to Los Angeles, but also enabling them to port their existing capacity to different destinations."
A consortium of seven global telecommunications companies agreed to cooperate in the construction and operation of the SEA-US submarine cable system, and NEC was announced as the system supplier in September 2014 (see "Global consortium to build SEA-US undersea cable system"). RTI is the second member of the SEA-US consortium to announce that the undersea cable system is ready for service, following Hawaiian Telcom (see "SEA-US undersea cable system bringing broadband speeds to Hawaii is ready for service").
The SEA-US consortium consists of PT. Telekomunikasi Indonesia International (Telin), Telin USA, Globe Telecom, RTI, Hawaiian Telcom, GTA, and GTI Corp. (a member of the Globe Telecom group of companies).
For related articles, visit the Network Design Topic Center.
For more information on high-speed transmission systems and suppliers, visit the Lightwave Buyer's Guide.