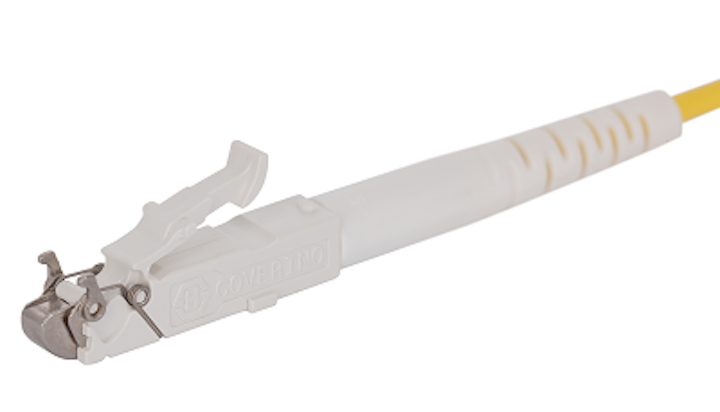 HUBER+SUHNER says it will use ECOC 2018, September 24-26 in Rome, to launch the COVERINO LC connector. The fiber-optic connector targets fiber to the home (FTTH) applications and offers the level of connectivity safety broadband consumers will desire, the company adds.
The COVERINO LC fiber connector comes with a matching adaptor to offer full mechanical, dust, and laser protection, says HUBER+SUHNER. The resultant protection makes the fiber-optic connector suitable for consumer self-install applications. The connector also is available with the company's patented push-pull functionality, which enables easy installation, even in high-density environments. The latch mechanism also supports connectivity with one hand.
The connector's automatic, spring-loaded shutter mechanism offers safety protection when the connector is unplugged. The COVERINO LC is fully compatible with standard LC connectors according to IEC 61754-20, adds HUBER+SUHNER.
"The COVERINO LC is a solution of much research and development, drawing on our many years of experience in the industry," said Nesa Scopic, head of product management, Fiber Connectivity Indoor at HUBER+SUHNER. "Handling cables in the home can always be a safety concern, especially for consumers with children, but our strong capabilities in this area have meant we have been able to develop a completely safe solution."
HUBER+SUHNER will display the COVERINO LC at booth 410 at ECOC.
For related articles, visit the Optical Technologies Topic Center.
For more information on fiber connectors and suppliers, visit the Lightwave Buyer's Guide.