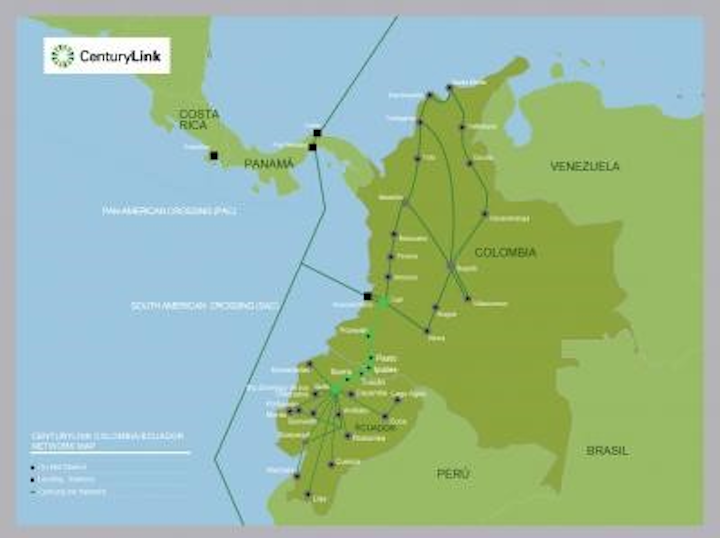 CenturyLink, Inc. (NYSE: CTL) said it has introduced its new 585-km fiber-optic route between the cities of Cali, Colombia, and Quito, Ecuador that connects the two countries. Along the way, the route enables transport and IP services in the cities of Popayan, Ipiales, and Pasto in Colombia, and Tulcan and Ibarra in Ecuador.
The new network has an installed capacity of 400 gigabits in the transmission layer, and is in turn linked to the Colombian "ring of alliance," says CenturyLink. It is also linked to Global Crossing's South American Crossing (SAC) submarine network to enable an international on-net outlet for Ecuador. The SAC system includes approximately 20,000 km of fiber-optic cable (see "Global Crossing upgrades capacity on MAC, SAC, and PAC submarine networks").
According to CenturyLink, this new expanded infrastructure and network coverage will make upscale services accessible to enterprises, internet service providers, telecommunications companies, and local governments. It will also provide access to regional or global reach within a single provider with fiber route diversity for service contingencies, as well as CenturyLink's global product portfolio.
CenturyLink's fiber-optic network extends over 720,000 km worldwide,reaching customers in over 60 countries. The global telecommunications and IT provider has a network infrastructure of more than 26,000 km throughout Latin America.
"As technology needs increase for companies in Latin America, CenturyLink is committed to preparing our network for the future in order to meet the current and future demands of our customers," said Hector Alonso, CenturyLink's regional Latin America president. "As a company, we understand how important it is for businesses to have a secure and reliable network that delivers faster connections to help move their businesses forward. Our expanded network offers companies in the region local network infrastructure and support together with global connectivity, creating a gateway for the exchange of information in the region and around the world."
For related articles, visit the Network Design Topic Center.
For more information on high-speed transmission systems and suppliers, visit the Lightwave Buyer's Guide.