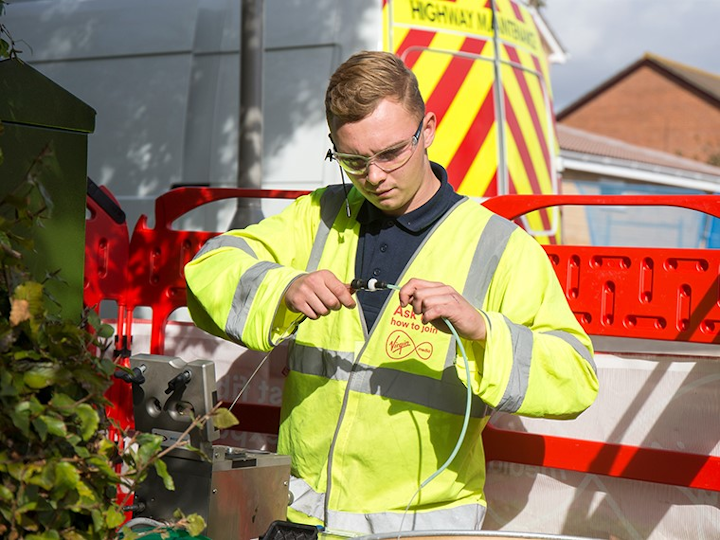 Virgin Media
Virgin Media says it plans to offer gigabit broadband in at least two markets this year and to almost 15 million UK households by the end of 2021. The UK cable MSO says it will use a combination of fiber to the home (FTTH; see "Virgin Media names 10 FTTH communities") and DOCSIS 3.1 enabled hybrid fiber/coax connections to deliver the high-speed broadband services.
The service provider says it will make gigabit broadband available to more than 1 million people this year, starting in Southampton, where technology trials are underway. Virgin Media did not identify the second target city. However, the company has trialed 10G-EPON technology in Cambridgeshire (see "Virgin Media trials 10G-EPON with ARRIS").
"This is a giant digital leap forward for the UK," proclaimed Lutz Schüler, Virgin Media's CEO. "This upgrade plan will see gigabit speeds rolled out at an unrivaled pace right across the country, bringing our customers the future-proof connections of tomorrow."
"We welcome Virgin Media's commitment to investing further in its network, providing gigabit speeds to millions more households," added Sharon White, chief executive of UK telecommunications regulatory authority Ofcom. "This shows the race to roll out ultra-fast speeds to people and businesses across the UK is really gathering pace."
The availability of the new high-speed broadband services will in part leverage the new network infrastructure Virgin Media has installed via its Project Lightning initiative (see "Virgin Media plans UK broadband access roll out"). The company says this effort added more than 1.7 million premises to its footprint.
For related articles, visit the FTTx Topic Center.
For more information on FTTx technology and suppliers, visit the Lightwave Buyer's Guide.