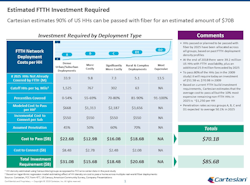 Cartesian/Fiber Broadband Association
The Fiber Broadband Association has collaborated with strategy consulting firm Cartesian to investigate how much it would cost to pass 90% of U.S. households by 2029. The price would be about $70 billion more than has been spent so far, the association says in the study. If you're looking to save some money, $52 billion would enable 80% of U.S. homes to be passed, according to the study.
The study notes that fiber homes passed in the U.S. at the end of last year numbered 39.2 million, with current momentum expected to drive that figure to 65.1 million by 2025 – approximately 50% of U.S. households. A demand for better broadband services, the willingness of more service providers to accept the longer-term benefits of all-fiber networks, and government efforts to lower barriers to deployment as well as offer subsidies, such as the CAF program, have proven catalysts for fiber to the premises (FTTP) deployment growth, according to the study.
With fiber deployment costs coming down and roll outs to rural areas becoming more feasible than Cartesian assumed the last time the firm looked at this issue in 2009, the analysts and the Fiber Broadband Association make the case that reaching 90% homes passed over the next 10 years is an achievable goal, based on an average cost of $1250 per home passed (see chart). The major question, of course, is where the $70 billion will come from. In a press release that covers the release of the study, the Fiber Broadband Association points to "innovative deployment models, government efforts to lower access [barriers] to essential infrastructure, and efficiently provided government support" as factors that could create the required investment environment.
The Fiber Broadband Association finds the study results encouraging. "Building all-fiber networks throughout America is not a pipe dream," said Lisa R. Youngers, president and CEO of the Fiber Broadband Association, via the press release. "We have long known that having access to all-fiber networks is far superior than other technologies in driving economic growth, social interaction, and political engagement. Now we know that deploying all-fiber networks to most parts of the country within the next decade is feasible. If we want to close the digital divide, it is essential that we make all-fiber networks a reality for all of America's communities."
For related articles, visit the FTTx Topic Center.
For more information on FTTx technology and suppliers, visit the Lightwave Buyer's Guide.
To stay up to date on FTTx, subscribe to the Lightwave Service Providers Newsletter.