A cabler's view of fiber-to-the-home
Sep 1st, 2001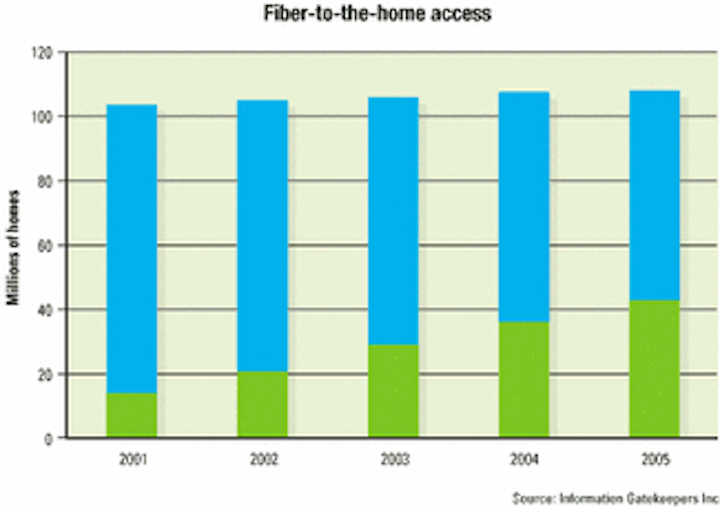 SPECIAL REPORTS / Fiber and Cable
When the cost of fiber achieves parity with copper cost, the world may gobble all the glass manufacturers can provide.
DAN TATARKA, Pirelli
Fiber-to-the-home (FTTH) is a hot topic among fiber-optic cable suppliers these days, as the day approaches when it will be both practical and cost-effective for the home end user to enjoy the benefits of optical fiber's enormous capacity to transmit information. According to a report from Boston-based analyst IGI Group Inc., Bringing the Lightwave Home, by 2005, high-speed data access will reach 40% of all homes in the United States.
That will be accomplished with a mixture of DSL; cable modem, or data-over-cable service interface specification (DOCSIS); and FTTH. When the cost of providing glass to the home, office, or apartment achieves parity with the cost of providing copper, the world may gobble all the glass fiber that can be manufactured for a number of years.
FTTH cable requests have been coming to suppliers more frequently than ever before, sometimes at a rate of about one per week. Potential FTTH customers' comments have ranged from "we don't know much about FTTH, we just know we want to get into the business" to "can you make a specific kind of cable for FTTH, with specific applications and equipment in mind?"
To answer those questions positively, cable suppliers must be willing to tackle the challenges posed by FTTH systems if they want to stay in the forefront of providing high-bandwidth, fiber-ready systems. Cablers are presented with ideas for different cable configurations to meet this market need, but each potential solution must meet the tests of feasibility and marketability before evolving into viable products.
A number of fiber-optic cable products are available for FTTH applications today, and more are on the near horizon. But whatever the fiber cable solution, it must meet distinct requirements for connections between the home and curb.
Most technological advances to date have been focused on the access portion of the network to handle the increase in demand in data transfer spawned by the Internet revolution. Consequently, network service providers are upgrading legacy systems in the race to be the first to offer high-speed access. But that cannot last very long, because they are not equipped to handle the massive bandwidth hunger that will develop in the future.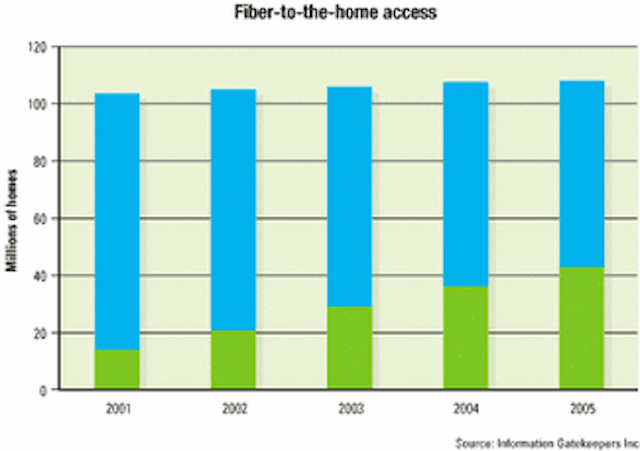 Figure 1. The growth in high-speed access lines is expected to reach 40% of the total homes in the United States by 2005.
To this point, most of the development in FTTH cables has been directed at driving down the cost of components and maintenance. Many systems are generally still too expensive and inhibit widespread FTTH deployments. However, system developments in the last few years are gradually bringing that cost down. Some developments in fiber and cable technology have already occurred and more are in the evaluation and testing phase.
Some low-fiber-count drop cables in today's market tend to mimic trunking and access cable attributes in that their termination requirements are similar. But outside plant (OSP) termination typically requires some fairly complex equipment for splicing and splice protection, plus skilled technicians are required to perform the tasks. In contrast, FTTH providers dealing with the high-volume home access market must make quick connections without having to spend a lot of time training personnel on new techniques and products. In short, they need a cable and interconnection system that is easier to terminate than what has typically been required for OSP cables.
In light of the new challenges and requirements of FTTH cable, how can we determine what the future will look like? How soon will it arrive? The race to provide FTTH has been brewing for a long time, but cost and regulation have been major stumbling blocks. Some of these stumbling blocks are being addressed in Congress. Currently pending legislation would give regional Bell operating companies faster access to the long-distance data market by eliminating some of the regulations on traditional telephone companies offering Internet service. The hunger for high-speed access cannot be ignored, and whoever gets there first will command a large portion of the market.
The growth in high-speed access lines is expected to reach 40% of the total homes in the U.S. by 2005 (see Figure 1), but no one really knows how much market share fiber-optic architectures will command. At this point, there are a lot of different FTTH architectures competing to define what the last mile will look like. Until a single architecture is the clear winner, it is obvious that one cable product will not dominate the landscape.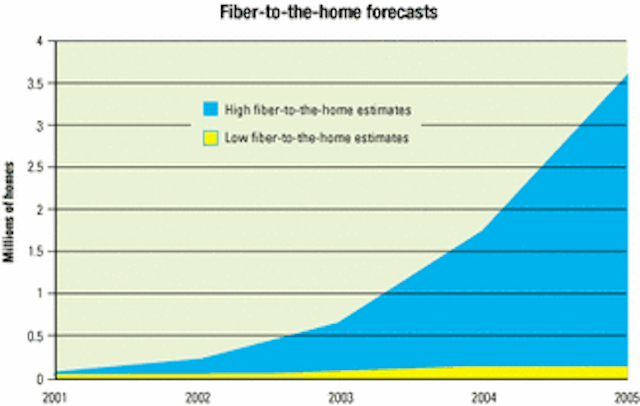 Figure 2. The range of forecasts for fiber-to-the-home (FTTH) indicates that FTTH installations will constitute up to 10% of the total high-speed access market.
New component technology is bringing the price of FTTH very close to the cost of installing copper. The price point crossover is expected to occur within the next few years-by 2004 or by some accounts 2005-while others say it won't occur until at least 2010. The range of forecasts for FTTH (see Figure 2) indicates that FTTH installations will constitute up to 10% of the total high-speed access market.
These varying forecasts are further proof of the uncertainty out there. However, once the crossover occurs, the incentive to switch to fiber for planned new builds and over-builds will be completed. An economically viable FTTH architecture will provide bandwidth well beyond anything currently available-clearly meeting future needs.
Fiber-optic cable suppliers are focused on ways to hasten the day when fiber is an economical option, and new cable styles are being considered. Drop cables are the area where most of the new development will occur and likely consist of one or two fibers going to the house. Two fibers would provide the incoming and outgoing transmission paths, whereas one-fiber systems would use two wavelengths for communication. In some cases, four fibers are even being considered for redundancy.
In addition, new composite designs with coax and twisted-pair configurations are in the mix. With installation cost being one of the highest considerations, some organizations are in stalling the fiber with the copper systems, knowing very well that it will be used in the future to upgrade the system.
Despite the unknown variables that will affect the future development of FTTH cables, some issues are clearer, principally concerning the tradeoffs that should be made to drive costs down to the optimum point for widespread deployment. OSP cables must meet rigorous requirements for strength and durability because of the rigors of installation and the manner and environments in which they are deployed.
FTTH cables, on the other hand, are likely to be deployed in shorter lengths-up to 200 ft. They will not need to meet the same rugged performance requirements that OSP cables must meet. Some requirements will be less stringent because of the shorter spans involved. However, new requirements will be introduced due to the premium placed on quick and craft-friendly customer hookups.
Some of the paradigms facing the industry also hamper cable development. For example, there is an issue of protection against power outages. If power is interrupted, what kind of backup systems will need to be in place? Power must be supplied at the end-user premises or carried alongside the optical fiber.
New alliances are forming for integration of cable and FTTH systems, such as passive optical networking (PON). For example, an alliance was recently announced between Pirelli Cables and Systems SpA (Milan, Italy) and access provider Alloptic Inc. (Livermore, CA). Under the alliance, both companies agreed to develop new optical solutions for access networks and fiber-to-the-home applications. These kinds of alliances will ultimately bring costs down through increased efficiencies and other advantages, including the opportunity to run joint trials that increase the pace of innovation.
Regardless of the direction the FTTH market takes, fiber-optic cable solutions will require the expertise and experience that has been gained at other stages along the information superhighway-long-haul, metro, and customer premises. Cable providers that have led the way to this point can be expected to be in the forefront during the last mile.


---
Dan Tatarka is product manager for the FTTH division of Pirelli Communications Cables and Systems North America.

Whatever the purpose, all articles, product announcements, and advertisements in Lightwave can be reprinted to suit your informational needs.
For information, contact Kathleen McIntosh at: (603) 891-9203, fax (603) 891-0587, or e-mail: kathmc@pennwell.com.