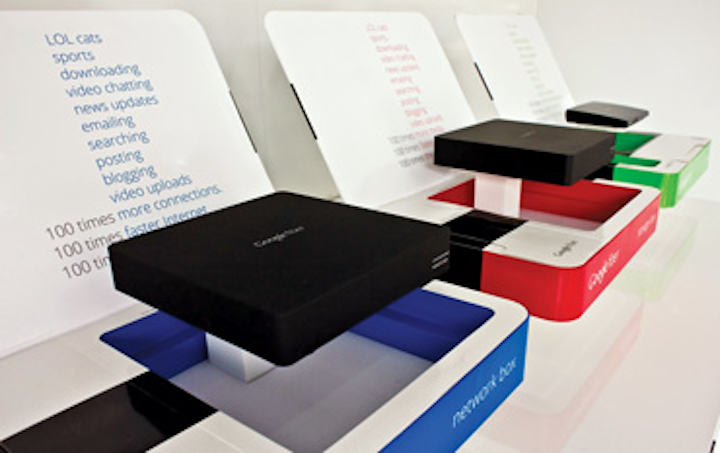 by Stephen Hardy
Is 1-Gbps FTTH the gold standard or just gold-plated?
The Federal Communications Commission launched the U.S. National Broadband Plan in 2010. It targeted 2020 for completion of its goal of 100 Mbps to 100 million homes. At the time, 100 Mbps seemed like a robust amount of capacity and a significant upgrade over what most broadband service providers offered.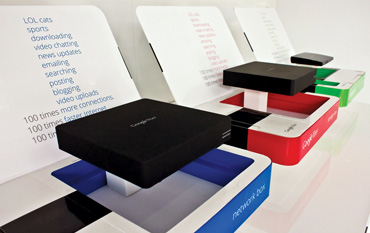 Google Fiber has brought significant attention to 1-Gbps FTTH services.
Three years later, 100 Mbps still seems like a lot of bandwidth to most residential users -- more than many are willing to pay for (assuming it's even offered). However, that hasn't stopped a growing chorus of voices in the U.S. from shifting the bandwidth discussion to the desirability of 1-Gbps services. The last year or two have seen rollouts of such high-speed options, announced plans for others, and offers of help to bankroll or otherwise facilitate such projects. CenturyLink's pilot of 1 Gbps signals that Tier 1 service providers are realizing that they may soon need to respond in kind.
Part of this interest in gigabit speeds derives from the hoopla that surrounds Google Fiber; the National Broadband Plan contained 1 Gbps to anchor institutions as part of its charter as well. Yet Google is somewhat late to the party compared to the first wave of gigabit service offerings, and the National Broadband Plan is just that -- a plan. There must be other explanations for the interest in a data rate that even those who provide it often admit represents much more capacity than the average home requires.
According to those who follow the segment, that's true. It turns out that 1 Gbps isn't just a data rate -- it's an ideal.
The gigabit challenge
Hong Kong Broadband is generally credited with offering the first 1-Gbps residential services in 2005. The data rate made its U.S. debut as a citywide residential fiber to the home (FTTH) service in Chattanooga, TN, in 2010, thanks to EPB Fiber Optics, a division of the municipally owned electrical utility EPB. (Paxio, an open access infrastructure provider in the San Francisco Bay area, may have been the first U.S. carrier to sign up residential customers for gigabit speeds over an FTTH infrastructure. But it serves a limited footprint.)
How many operators now offer the service in the U.S. remains an open question. Michael Render, founder and analyst at FTTH market research firm RVA LLC and coauthor of a 2012 report on gigabit services for the FTTH Council, says that as of the second quarter of this year, at least 24 operators in North America were offering 1 Gbps as a marketed broadband option with a price point of $350 or less. (Render uses this price to differentiate a true 1-Gbps service offering from a custom link.)
That group, whose numbers Render says likely well exceed 24 operators, represents a cross section of service-provider types. Municipalities and rural carriers have led the way in 1 Gbps, much as they did in FTTH generally. In addition to EPB, for example, Lafayette Utilities System of Georgia launched 1-Gbps services on its LUS Fiber network last year; Bristol Tennessee Essential Services (BTES) did as well.
Competitive carriers also have seen 1 Gbps as an opportunity to differentiate themselves from the local incumbent. And no competitive carrier has done more to put symmetrical 1-Gbps services on the map than Google Fiber. With services finally rolling out in Kansas City, KS, Google now has its eyes on expansion, with new projects targeted for Provo, UT (thanks to its acquisition of the iProvo network) and Austin, TX.
Render believes Google has given a jolt to 1 Gbps. "I think the idea was already being stimulated by EPB's announcement, and some others were getting onboard," he says. "But certainly when you put the Google name behind it -- and also their model, the fact that they are providing at a very low price per month -- it changed the game somewhat."
The question now is whether Tier 1 carriers or cable operators will follow suit. Verizon recently announced it would meet 1-Gbps offerings halfway with a 500-Mbps service. AT&T has said it might deploy 1 Gbps in Austin, if certain regulatory conditions are met.
But CenturyLink's pilot project represents the most sincere Tier 1 attempt to investigate gigabit broadband. The carrier says it plans to connect 48,000 homes and businesses in Omaha, NE, with services available to the entire footprint by October.
Meanwhile, federal, state, and local government agencies are beating the gigabit drum. Among his last acts as FCC chairman, Julius Genachowski this past January issued the "Gigabit City Challenge," in which he called for at least one community with gigabit access in all 50 states by 2015. At the state level, Illinois Governor Pat Quinn launched the Illinois Gigabit Communities Challenge last year as part of his Illinois Jobs Now! program. Gov. Quinn had the good grace to back the challenge with grant money; the state has awarded about $5.5 million so far to winning proposals.
Nonprofits also are getting into the act, with Gigabit Squared (an Illinois Gigabit Communities Challenge grant recipient for a planned project in Chicago to go with its Seattle deployment) and Gig.U the two most visible actors of this type. Not to be out-challenged, the FTTH Council Americas recently challenged the FCC to do more to promote 1-Gbps broadband. The council's Gigabit Communities Race to the Top proposal calls on the FCC to help kick start fiber-optic broadband investment in Tier 2 and Tier 3 markets by awarding matching grants of up to $10 million for as many as 15 projects over the next five years.
The other gigabit challenge
All of this 1-Gbps activity when most homes still have relatively little access to 100-Mbps speeds would seem to beg a very simple question: Why? The fact that both Chattanooga and Kansas City have held competitions to conjure uses for 1-Gbps connections implies that even they're not sure why such capacity might be needed right now.
One simple explanation for the attention to 1 Gbps is that while such services are being offered to residences, businesses are really the main target. For example, sources at EPB suggested shortly after they announced their 1-Gbps offering that they expected businesses to be the initial customer base. At around $350 per month, the service is priced accordingly.
The city of Chattanooga has taken this idea and run with it, launching a marketing effort in which it has branded itself "Gig City" in hopes of luring high tech businesses to the area. Similarly, Kansas City has begun calling itself "Silicon Prairie," even though Google Fiber still hasn't announced a promised business services offering.
According to Teresa Mastrangelo, principal analyst at broadbandtrends.com, the idea that the presence of a gigabit-capable fiber broadband network can recast a community as a potential tech hotbed has undoubtedly led to some gigabit-speed offerings. Meantime, while waiting for residential needs to catch up with the available capacity, service providers and municipalities can use their networks for other applications. Chattanooga uses its FTTH network to support various city services, while EPB leverages its fiber infrastructure to support its smart grid requirements.
Meanwhile, Render says 1 Gbps can be as much of an insurance policy as anything else. "I think a gigabit highlights the capacity of fiber to the home. It's probably fairly rare if ever that a gigabit is absolutely needed at this point in time. But there's no doubt that the need for speed and the need for symmetrical speed is increasing all the time," he explains. "I don't know all the applications that will cause [1 Gbps] to be required. But I think it does give a feeling of confidence that a provider will be able to meet somebody's needs."
Thus, even if few residents need 1 Gbps now, it's comforting to know that it will be there waiting for you when you do. And you can brag about it at the same time.
Stephen Hardy is editorial director and associate publisher of Lightwave.
More LW Articles
Archived Lightwave Issues