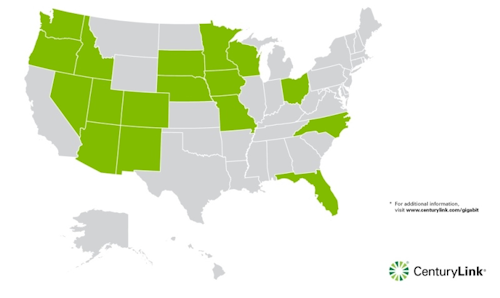 CenturyLink, Inc. (NYSE: CTL) says it now offers gigabit fiber to the home (FTTH) broadband services in parts of Arizona, Idaho, Iowa, New Mexico, North Carolina, and South Dakota. The footprint expansion brings to 17 the number of states in which CenturyLink offers gigabit FTTH.

The service provider says it expects to have more than 700,000 households "enabled" with FTTH by the end of this year. CenturyLink also offers the gigabit fiber-optic broadband service to small and mid-sized businesses.

All of these potential customers can receive high-speed Internet service. CenturyLink is working to increase the number of markets where it can offer its Prism TV service as well.

The new markets include Phoenix, where Google Fiber is considering gigabit deployments and Cox has announced service (see "Google Fiber to bring FTTH to four southeastern cities, looks at five more" and "Cox's G1GABLAST reaches Arizona, California, Nebraska, and Nevada"; CenturyLink also plans to offer gigabit broadband in Anthem, Chandler, Gilbert, Mesa, Peoria, and Scottsdale, AZ.). On the other hand, CenturyLink may be able to piggyback on the momentum AT&T, Frontier, and Google Fiber have created in Raleigh, Durham, and other Triangle region communities as it targets area suburbs such as Angier, Clayton, Fuquay-Varina, Hillsborough, Mebane, Pittsboro, Roxboro, Smithfield, and Wake Forest (see "AT&T launches GigaPower FTTP in Greensboro, Durham," and "Frontier lights gigabit fiber network in Durham"). The company also has launched gigabit FTTH in the southern North Carolina communities of Fayetteville, Raeford, Southern Pines, and Whispering Pines.

"We said from the very beginning that we weren't going to just talk about bringing gigabit speeds to our customers, but that we were going to deliver these speeds now. That's exactly what we've done," said Shirish Lal, CenturyLink chief marketing officer. "Consumers and small businesses are ready for a broadband service that is capable of keeping up with today's bandwidth demands. With the proliferation of the Internet of Things and the connection of everyday objects to the Internet and to one another, we are pleased to deliver speeds that can support these new technologies."

For more information on FTTx equipment and suppliers, visit the Lightwave Buyer's Guide.