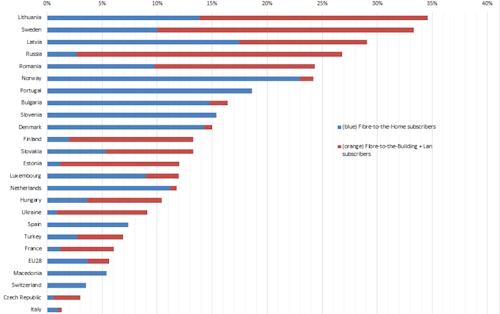 Research commissioned by the FTTH Council Europe and released at the organization's annual conference last week indicates that the number of fiber to the home (FTTH) and fiber to the building (FTTB) subscribers in Europe reached approximately 14.5 million in 2014. The total represents a 50% increase over 2013.

The total does not include the 14.8 homes and buildings served via fiber-optic broadband in Russia and the Ukraine. Market research firm IDATE conducted the study and provided the data for the FTTH Council Europe.

"This is phenomenal progress, and it proves that FTTH/B is poised to become the mass market broadband product in Europe, even though there is still a long way to go to reach the Digital Agenda target of 100 Mbps for 50% of Europe's households by 2020," said Karin Ahl, president of the FTTH Council Europe.

The council also released a review of the European countries where at least 1% of the population enjoys FTTH/B connections. The chart is below:

The list contains no new companies since 2013. However, the council is optimistic about the growth in FTTH connections in Germany. The company is "very close" to reaching the 1% threshold, according to an FTTH Council Europe press release; in fact, the council expects Germany to hit the mark at some point this year.

The council also reported "good progress" in existing FTTH countries such as Romania, Spain, France, Netherlands, and Portugal. However, the council also chided Austria, Belgium, the Czech Republic, and the United Kingdom for connecting fewer than 20,000 new FTTH customers during 2014.

For more information on FTTx equipment and suppliers, visit the Lightwave Buyer's Guide.