29 September 2003 Orlando, FL Lightwave--At the upcoming USTA Telecom '03 conference and exhibition in Las Vegas (October 11-15), TANDBERG Television, a supplier of open solutions for digital broadcasting, will showcase its iTTV delivery platform for interactive television deployment via xDSL and fiber-to-the-home (FTTH). The iTTV delivery platform opens the possibility for telcos to offer a "triple play" service of telephony, high-speed Internet, and broadcast television over one network, coupled with true video-on-demand (VOD), to create substantial benefits to both operators and consumers.
"TV and VOD over DSL and FTTH offers a variety of attractive business models that can increase per customer revenue and combat customer loss to cable companies starting to offer telephony services," said Carl Furgusson, director of Business Development for the Americas. "In North America, independently operating telcos in particular can benefit from revenue growth and consumer/subscriber protection by offering a triple play mix of broadcast video along side telephony and high-speed Internet service. In order to meet and impact customer expectations, they must deliver video quality of at least the same level as that of traditional television. With years of experience equipping large pay-TV networks, TANDBERG Television offers its expertise in solutions such as ATM/IP delivery, transport stream descrambling, high quality encoding, and digital turn-around bit-rate changing to produce a TV system that meets today's requirements and can grow as scope and scale increases."
Visitors to the TANDBERG Television booth 533 will see a complete headend package designed around the company's four-tier solution for delivering video over IP via commercial xDSL and FTTH deployments. This scalable array of solutions for video services, all derived from the iTTV delivery platform, allows a telco to get on-air in four quick and cost-effective ways:
• Stream it: A straight pass-through streaming package applicable to FTTH deployments. Digital services are taken off-air, passed through a TT7116 Streamer, and streamed directly to the home unprocessed, a great solution for FTTH.
• Rate Change it: A bit-rate changing module is added to the TT7116 to alter the bit-rate of the incoming digital channel so that it can fit into an ADSL stream. Ideal for digital turnaround of digital content from satellite.
• Standard Encode it: An encoder is added to the TT7116 for up to 10 channels of encoding and streaming. A cost-effective solution for analog to digital conversion and for turnaround of video into lower data rates of DSL. Uses an off-the-shelf encoding chipset with TANDBERG Televisions own MPEG2 'smarts' added to the microcode.
• Premium Encode it: Premium encoding via the E5710 MPEG-2 encoder provides picture quality at the lowest bit-rates. Picture quality can be traded for longer loop length to lower the costs of DSLAM implementation or to send more channels into the home simultaneously.
The operator can mix and match the four-tier solution on a per channel basis allowing the video quality verses cost calculation to be optimized:
• Premium encoding for the most watched and most complex to encode channels,
• Standard encoding or rate-changing for less complex, less watched channels, and
• Pass-through of services such as digital music channels.
Visitors to the USTA Telecom exhibition floor will also find the company's iTTV delivery platform powering video demonstrations at the Calix booth 429. Visitors to the booth will find iTTV powering Calix's last-mile video delivery platform as part of a three-company demonstration on switched video services that also includes Myrio Middleware. All three companies will embark on a road show in Q4 of this year. As part of the 2003 Simplified Services Tour on "Enabling the Video Revolution," TANDBERG Television, Calix, and Myrio will present a live, standards-based demonstration of end-to-end switched video services delivery at 12 cities around the United States.
A typical DSL or FTTH deployment features a complement of TANDBERG Television MPEG-2 encoders, IP streamers, transport stream descramblers, and integrated receiver/decoders. Third-party set-top boxes, video-on-demand servers, and middleware for electronic program guides, channel navigation and other additional services are supported.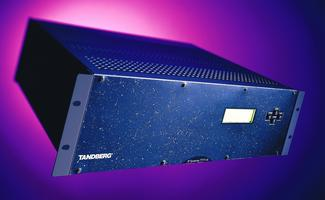 A TT7116 Broadband IP Streamer is used for fiber-to-the-home applications.