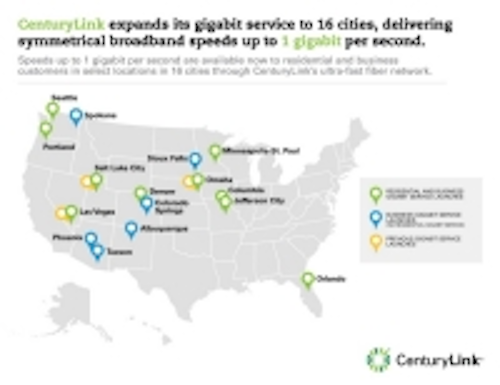 CenturyLink, Inc. (NYSE: CTL) says it is now offering symmetrical 1-Gbps fiber-optic broadband services in 16 cities. Gigabit services are available to both residents and businesses in 10 of the markets, with business-only services available currently in the other six.

The 16 markets include Omaha, Las Vegas, and Salt Lake City, where CenturyLink had previously announced 1-Gbps service availability based on fiber to the premises (FTTP) networks (see "CenturyLink targets Omaha for 1-Gbps FTTP network pilot" and "CenturyLink adds Las Vegas to 1 Gbps FTTP pilot"). Services are available "in select locations" in each of the 16 markets.

Including the three previously established markets, residential and businesses in these market may have 1-Gbps services available to them:

Columbia and Jefferson City, MO
Denver
Las Vegas
Minneapolis-St. Paul
Omaha
Orlando
Portland
Salt Lake City
Seattle.
The business-only versions of the service are available in these six markets:

Albuquerque, NM
Colorado Springs, CO
Phoenix
Sioux Falls, SD
Spokane, WA
Tucson, AZ.
"While some providers talk about bringing broadband speeds of 1 gigabit per second to their customers in the future, CenturyLink is delivering these speeds today to thousands of residential and business customers, making us one of the fastest broadband providers in these communities," said Shirish Lal, CenturyLink senior vice president of marketing. "We are providing these cities a reliable network with ultra-fast broadband speeds that help create a foundation for a strong community, attract new businesses and drive economic growth."

For more information on FTTx equipment and suppliers, visit the Lightwave Buyer's Guide.