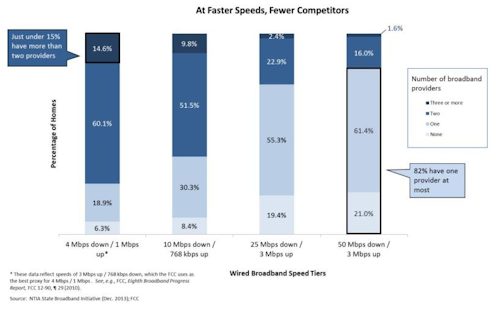 Federal Communications Commission (FCC) Chairman Tom Wheeler called for more competition among broadband service providers in an address at a Washington, DC, tech company incubator September 4. He called for an "Agenda for Broadband Competition" that would establish broad principals to encourage more choice for broadband consumers.

Speaking at tech incubator 1776, Chairman Wheeler said that "meaningful competition for high-speed wired broadband is lacking and Americans need more competitive choices for faster and better Internet connections, both to take advantage of today's new services, and to incentivize the development of tomorrow's innovations." He showed the chart above to support his assertion. The chart, Chairman Wheeler said, illustrates that as broadband speeds rise, competition decreases. This trend is important, he said, because while the FCC currently defines broadband service as 4 Mbps downstream, Chairman Wheeler called this rate "yesterday's broadband."

"Even 10 Mbps doesn't fully capture the increasing demand for better wired broadband, of which downstream speed is, of course, only one component," Chairman Wheeler explained. "It's not uncommon for a U.S. Internet-connected household to have six or more connected devices – including televisions, desktops, laptops, tablets, and smartphones. When these devices are used at the same time, as they often are in the evenings, it's not hard to overwhelm 10 Mbps of bandwidth."

Service providers are addressing this reality, the chairman noted. A majority of American consumers have access to 100 Mbps services, he acknowledged. However, he said the fact that more than 40% do not is unacceptable. Equally unacceptable is the fact that the majority of those with 100-Mbps access don't have a choice of service providers offering this rate, Chairman Wheeler added.

"The simple lesson of history is that competition drives deployment and network innovation," he said. Chairman Wheeler pointed to the positive effects of Google Fiber's deployments in terms of competitors in Kansas City and Austin responding with gigabit service initiatives of their own (see, for example, "AT&T to launch 1-Gbps FTTH in Austin").

"These gigabit developments are positive, but they are not yet pervasive. Looking across the broadband landscape, we can only conclude that, while competition has driven broadband deployment, it has not yet done so a way that necessarily provides competitive choices for most Americans," Chairman Wheeler said.

Duopolies do not constitute a competitive situation, he added, particularly when switching from one provider to another is cumbersome and costly for consumers.

The Agenda for Broadband Competition would seek to promote competition through the support of four principles:

Where competition exists, protect it.
Where greater competition can exist, encourage it.
Where meaningful competition is not available, create it.
Where competition cannot be expected to exist, the FCC must promote broadband deployment.
Chairman Wheeler cited the allotment of more wireless spectrum and his controversial statements in support of municipally provided broadband services (see "FCC Chairman Wheeler pledges support for municipal broadband network efforts") as examples of initiatives that could promote competition.

The remarks won the approval of the Fiber to the Home Council. "Surrounded by innovators at D.C.'s start-up hub 1776, FCC Chair Tom Wheeler reaffirmed what consumers, communities and companies across the country have said: we need unlimited bandwidth to fuel our economy and compete around the world. And it is clear, as the Chairman noted, that all-fiber networks are the way to get there," said FTTH Council President Heather Burnett Gold.

"Companies and communities have made tremendous headway in the last few years to build these future-proof networks, but there are still barriers to investment and deployment," she continued. "Chairman Wheeler announced his intention to address these concerns, and the Fiber to the Home Council supports him in these efforts and looks forward to continuing to work with the Commission. We all know our goal: providing all Americans with access to all-fiber broadband networks. The time has come to accelerate the pace of those investments."

For more information on FTTx equipment and suppliers, visit the Lightwave Buyer's Guide.