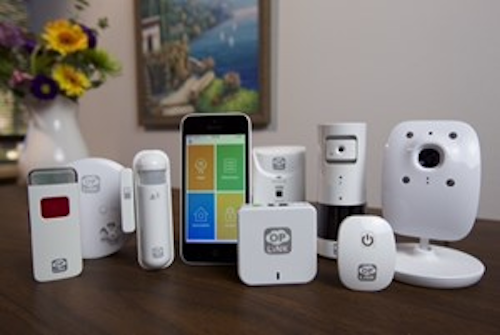 Oplink Communications, Inc. (NASDAQ:OPLK), a provider of optical components and subsystems, entered the consumer market with two do-it-yourself home security systems last year, and is now expanding into home automation. WiseHome is a family of connected products for home security, surveillance, safety, automation, and home health. A cloud-enabled mobile app allows multiple groups of authorized Smartphone or tablet users to collaborate, receive video as well as alarms and alerts, and control various home devices in multiple locations. The app is free and is available for Android, iOS, and Windows. The hardware heart of the WiseHome system is the Oplink processing unit (OPU). The hub communicates with the Oplink Cloud and automatically connects and manages all local devices, such as security sensors, cameras, and storage devices, with the WiseHome mobile app. The WiseHome family of products targets five key areas for a well-connected home:
Security: WiseHome security products include sensors and video cameras that, when triggered, capture audio, live video, and photos and send alerts directly to a user's mobile device. A parallel notification system contacts the owner and authorized friends and family to receive the same notifications at once.
Surveillance: WiseHome cameras collaborate with sensors that trigger recording and push audio and video notifications. It also enables remote viewing. Features include two-way audio, night vision, and motion detection.
Safety: WiseHome safety products start with an integrated sonic and gradient heat sensor that works with existing smoke detectors to alert multiple smartphone users remotely upon local siren alarms related to possible fire issues in the home.
Automation: WiseHome WisePlug allows users to remotely control in-home lighting, thermostats, garage door openers, and appliances from mobile devices.
Home Health: WiseHome in-home health products include an emergency button that, when pressed, alerts designated family, friends, or caregivers.

"The mobile-connected technology is becoming the lifestyle of the future," said Joe Liu, chairman and CEO of Oplink. "WiseHome is a lifestyle product family that can be set up quickly and easily out of the box, instantly connecting people to their homes and loved ones. Oplink offers free connected mobile-cloud service, with an option for upgrade."

Product is coming this fall, the company says.

For more information on optical components and suppliers, visit the Lightwave Buyers Guide.