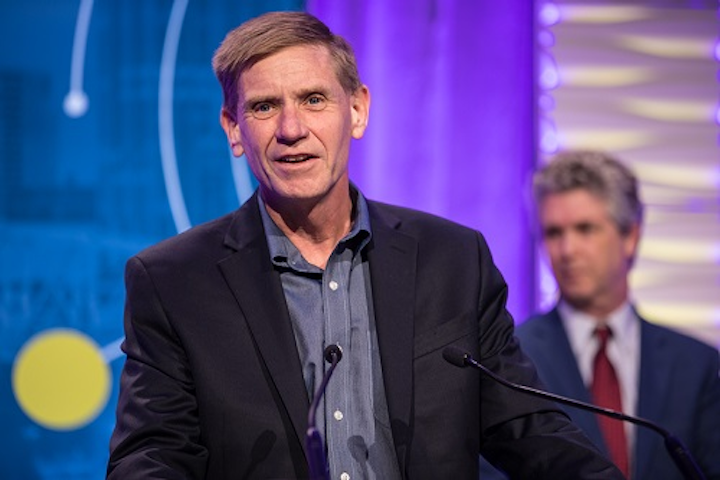 Verizon's Lee Hicks received the 2018 FTTXcellence Award at last year's Fiber Connect event. The award, co-presented by Corning Inc. and Lightwave, recognizes innovation in optical access networks in the Americas. Hicks was cited for his work as lead for Verizon's One Fiber initiative, in which the service provider plans to converge mobile and fixed service delivery and support over a single advanced fiber-optic access infrastructure. That infrastructure will leverage one of the first significant deployments of NG-PON2, a technology Verizon has championed in the United States (see, for example, "Verizon narrows NG-PON2 choices to Ericsson/Calix and ADTRAN" and "Verizon establishes NG-PON2 interoperability using OpenOMCI specification").
Working his way up
The award also reflects Hicks's participation in Verizon's fiber to the premises (FTTP) roll out, part of his more than 30-year tenure at Verizon and its earlier incarnations. Hicks sees his career as having three distinct phases, the first of which began when he joined New England Telephone shortly after graduating from the University of New Hampshire with an electrical engineering degree "and a lot of debt," he says with a laugh. Not surprisingly, this early part of his career involved a lot of entry-level tasks, starting with copper plant rehabilitation work. He eventually became involved with financial modeling and found himself in charge of the design build team for New England Telephone's southern New Hampshire region.
A promotion to director of outside plant engineering began the second phase of his career, during Verizon's NYNEX period as the company began experimenting with fiber to the curb. He became part of what became the company's pioneering FTTP initiative in 2003. "Essentially what my team and I had to do was figure out how to build the optical distribution network to make FTTP work," Hicks explains. "We had another team working on the electronics, you know, the actual PON gear. But we were working on how do we pass millions of homes, what kind of equipment do we need, and what kind of innovations do we need? And that's where I started to work with the Cornings and the CommScopes and the ADCs and the 3Ms and FONSs of the world to innovate and drive that space."
That work led him to his career's current phase, which began with the responsibility for running Verizon's inside and outside plant operations in its Western region – "the non-ILEC area," he calls it. He subsequently ran the company's video services operations to support FiOS video services delivery. Hicks then switched roles again, working in data network engineering and the pairing of routers with optical transport. "Then I got tapped – you know, I call it 'volun-told' – to go into network planning," he says. The promotion to vice president – network planning put him in position to oversee Verizon's One Fiber initiative.
One Fiber to bind them
As was the case with FTTP, Verizon decided that it wanted to be among the first to market (if not the first) with 5G mobile services. And that was going to require a lot of fiber. Of course, Verizon already had a lot of fiber in the ground to support residential and business services delivery. So it just made sense, according to Hicks, to look at how any new fiber deployments for 5G support could dovetail with present and future fixed services delivery infrastructure and requirements.
"If you were running Verizon, you'd probably say, yeah, this is something that you ought to do. But it really is a change in how we look at our fiber assets," Hicks explains. "We want to say that, as we build or buy fiber assets, we're going to take advantage of that asset for all of our lines of business."
And Verizon is buying a lot of high-count fiber cable from Corning and Prysmian to support its 5G roll out, including the construction and densification of radio access networks (RANs). The deployment has posed several technical challenges that Hicks has had to lead the effort to solve. One is just keeping track of where the fiber is and where it needs to go, which means improved geospatial tools and databases. "We had started that with FTTP but where we're going now is taking a step further," Hicks says. "The base layer is to have a good common database and tool that you can use to know where your fiber is and know where it needs to be – where do you need cell sites, where are there businesses?"
Efficient fiber installation also was a focus for Hicks, from the actual placement of fiber to splicing cables with as many as 864 to 1728 fibers in a sheath. Hicks says Verizon uses both splice-on and pre-connectorized fiber cable. "Your main fiber leads, your feeder routes that the main feeds, there's a lot of fusion splicing that's going to be going on there," Hicks says. "But as you drop off out of those leads onto the laterals, the smaller laterals, then as you go into a customer's location, that's where we're looking to use [pre-]connectorization. As you get to the smaller fiber counts, we want to use connectorization as much as possible."
Next-generation PON
From a systems perspective, the One Fiber initiative has drawn significant attention for the adoption of NG-PON2, a technology Verizon has had to shepherd to maturity. Early on, Verizon realized that it would need to move past the GPON technology it has used for FiOS. "With GPON, you're trying to limit it to one gig symmetrical and because of the way it's built, it is not as reliable as we would like to use for business," Hicks comments. "It's a great consumer product and it's an okay business product. But it's not perfect for what we would like to be able to do from a reliability and flexibility perspective."
Hicks says the ability of NG-PON2 to transmit multiple wavelengths across a single fiber provides the sort of reliability and flexibility Verizon requires. Verizon can switch between wavelengths if a PON card encounters a failure, providing restoration in milliseconds – an important consideration to business customers. Eventually, Hicks foresees Verizon leveraging the multi-wavelength capability for load balancing as well. And, as capacity demands require, wavelengths can be bonded to deliver greater than 10 Gbps to a customer site.
Of course, a tunable multiwavelength transceiver in the customer premises' optical network terminal (ONT) holds the key to these capabilities – and such transceivers weren't readily available at desired price points (if at all) when Verizon began its NG-PON2 work (see "NG-PON2 tunable transceiver work shows signs of progress"). Verizon has launched field trials in Tampa, FL, of NG-PON2 (as well as in other locations that Hicks would not reveal) with tunable transceivers in place.
"I'm very satisfied," Hicks says of the transceivers' performance so far. "They're on, I would call it, a typical technology introduction curve, where it's kind of high priced. People are trying to figure out how to scale and manufacture it right." However, Hicks says he's seen a significant price reduction already from early in the program.
The next step
Hicks says Verizon would like to see smaller NG-PON2 ONTs, perhaps even pluggables, to make connecting elements to the network (particularly cell sites) easier and cheaper. Of course, the company would like to see fiber installation become even more efficient and less expensive as well. On the hardware side, a greater amount of automation is an ongoing desire.
Hicks likely will continue to contribute toward at least some of these efforts – but he's off to another role within Verizon, as vice president – operations, that will see him working to improve FiOS customer installation efforts. Whether this proves to be Phase 4 of the career of the 2018 FTTXcellence Award winner, only time will tell.