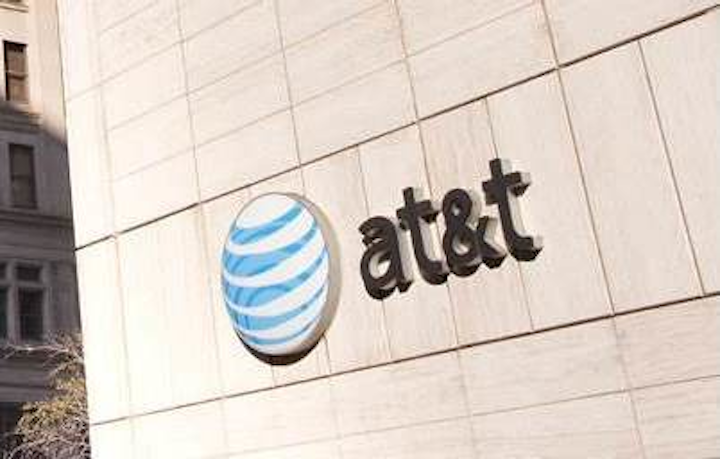 AT&T has used this week's Consumer Electronics Show as a platform to discuss its progress in 5G wireless networking alongside other broadband service delivery technologies – including fiber. With 1-Gbps services on parts of its 4G network expected to reach availability this year, it appears wireless (including millimeter-wave) will play an increasing role in the service provider's plans.
The company says that initial lab trials of 5G have demonstrated support of 14 Gbps transmission and latency of less than 3 ms. Such results will lead to a series of field trials in 2017, starting with a workout of 5G video with the DirecTV Now service in Austin, TX in the first half of the year. Subscribers in the trial also will receive access to other entertainment service AT&T did not identify. The trial will include multiple sites and devices; the company says it is interested to see how fixed millimeter-wave performs in this context.
The residential trial follows a 2016 field trial of business services via millimeter-wave, also in Austin. AT&T says that, working with Intel and Ericsson, it delivered video streaming and conferencing services of "around" 1-Gbps symmetrically. In the second half of this year, the service provider says it will collaborate with Qualcomm Technologies and Ericsson on further fixed and mobile trials based on the 3GPP group's 5G New Radio specification. The trial will attempt to accelerate commercial use of the 28-GHz and 39-GHz bands with an eye toward supporting multi-gigabit services.
Meanwhile, AT&T reports that it plans to expand the use of fixed wireless to delivery internet services in the 18 states where the company has accepted FCC Connect America Fund Phase II (CAF II) support. AT&T predicts it will reach more than 400,000 locations with fixed wireless by the end of 2017 across its CAF II footprint and 1.1 million locations by the end of 2020.
Despite all this attention on wireless, AT&T says it won't ignore its fixed network assets. The company says that it currently markets gigabit broadband services to nearly 4 million locations across 46 metro markets in the U.S. via fiber to the premises (FTTP). These FTTP locations include more than 650,000 apartments and condominium units. AT&T says it still plans to pass at least 12.5 million locations with FTTP across 67 metro areas by the middle of 2019 (see "AT&T renames FTTP service, plans additional markets").
To help deliver services to those apartment and condominium customers, AT&T has launched a trial in Minneapolis of G.fast technology, which is designed to deliver high-speed broadband to subscribers in multiple dwelling units (MDUs) via already installed twisted-pair copper or coax. The company says it is "encouraged by the results of our G.fast trial" and therefore will deploy G.fast to other locations this year.
But even in this context, wireless technology makes an appearance. AT&T launched a trial of gigabit broadband delivery to MDUs via fixed millimeter-wave wireless in 2016 (see "AT&T joins wireless broadband club"). "We're also exploring additional markets for trial locations," the company says.
Finally, the company also plans to embark on field trials of its AirGig technology this year. The technology, developed within AT&T Labs, aims to deliver low-cost, multi-gigabit wireless internet via power lines. The company says it could partner with power companies to deploy the technology, which also could apply to smart grid applications.
For related articles, visit the FTTx Topic Center.
For more information on FTTx technology and suppliers, visit the Lightwave Buyer's Guide.