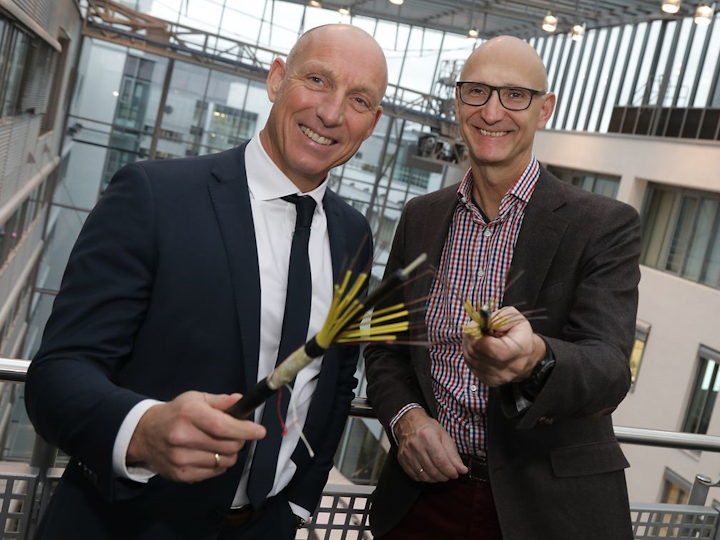 After signing a declaration of intent establishing their first joint venture, Deutsche Telekom and EWE announced plans to expand fiber-optic network connectivity in northwest Germany. The new partners plan to directly connect over a million private households to the network using fiber to the building (FTTB) and fiber to the home (FTTH). Deutsche Telekom says it plans to work with EWE in the German states of Lower Saxony, North Rhine-Westphalia, and Bremen.
Operations are scheduled to begin in mid-2018, providing the planned joint venture is approved by the German Federal Cartel Office. The two companies expect to invest up to 2 billion euros over a 10-year timeframe, with rural areas the priority.
According to Deutsche Telekom, each of the two companies will receive a 50% stake in the joint venture. Each company's ownership stake in the existing fiber-optic network will remain unchanged. The new network will become the property of the new company, including both its street and house connections.
Currently operating a fiber-optic network of 455,000 km, (see "Deutsche Telekom touts fiber-optic network investments") Deutsche Telekom announced the launch of the initiative to bring FTTH to smaller towns in Germany this November as part of an overall strategy to deploy 40,000 km of new fiber-optic cable in 2017 (see "Deutsche Telekom pilots small town FTTH").
"By working with a strong partner, we will be able to bring state-of-the-art fast internet access to even more people in our region," said Michael Heidkamp, EWE director of sales and marketing. "This joint venture will enable us to make faster progress toward a complete-coverage fiber-optic network, and thereby to set new standards in state-of-the-art broadband infrastructure."
The joint venture plans to create a new network that will be available for EWE, Deutsche Telekom, and other telecommunications-service providers to use for their sales and marketing efforts. According to the service provider, customers will have a selection of stable, ultrafast service providers to choose from.
"The cooperation will make the fiber-optic expansion considerably more cost-effective, and it will help us make an important contribution to the region's infrastructure competition," added Tim Höttges, Deutsche Telekom CEO. "The key is that FTTB and FTTH accesses will no longer be regulated. That is a central prerequisite for the joint project, and we are having talks with the Federal Network Agency."
The two companies intend to continue working separately in the area of business service provision.
For related articles, visit the FTTx Topic Center.
For more information on FTTx technology and suppliers, visit the Lightwave Buyer's Guide.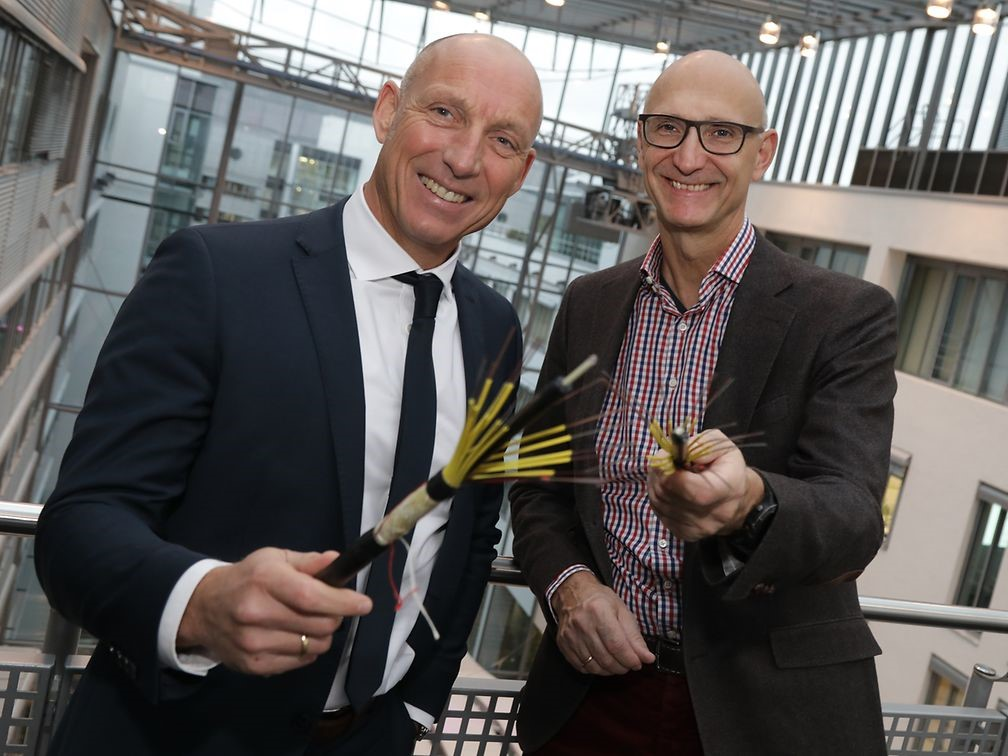 EWE Board Member Michael Heidkamp (left) and Deutsche Telekom CEO Tim Höttges (right) join forces to expand northwest Germany's fiber-optic network.