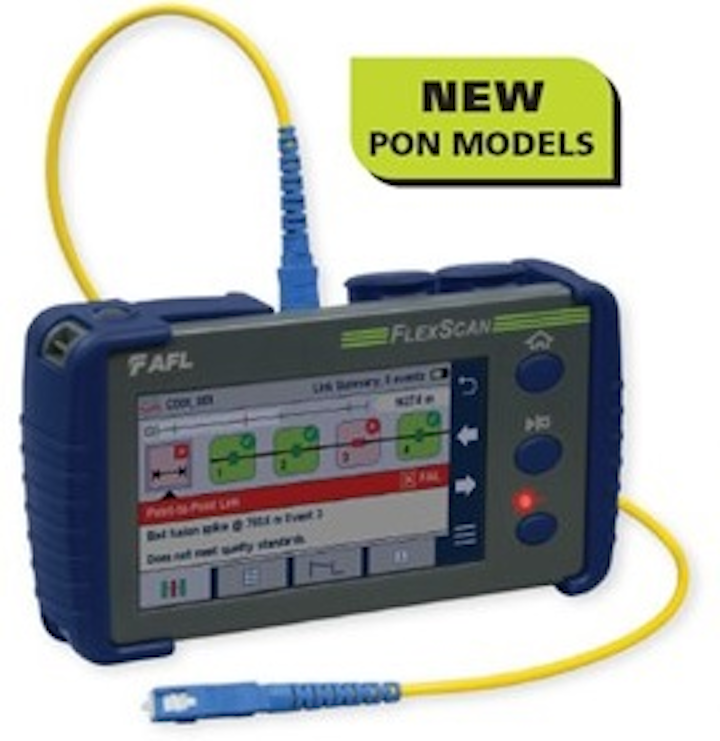 AFL's FlexScan FS200-304 pocket-sized OTDR offers complete fiber installation verification and troubleshooting for both PON and point-to-point networks in the smallest form factor currently on the market. The instrument offers 37/36/37 dB of dynamic range at 1310/1550/1650 nm,SmartAuto™ multi-pulse acquisition, and both trace and LinkMap® icon-based network views. Designed specifically for field users, FlexScan's 4.3-inch color touchscreen LCD with large, finger-friendly controls, rugged packaging, small size, and easy-to-learn user interface enable even less experienced technicians to rapidly identify and resolve fiber network problems.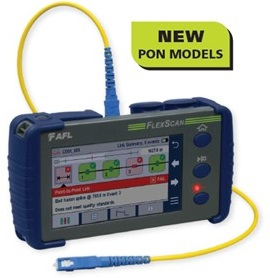 The FlexScan FS200-304 includes a visible red laser visual fault locator and offers optional integrated stable source, optical power meter, and both Bluetooth and Wi-Fi wireless interfaces. OTDR and insertion loss test results may be stored internally and uploaded via USB port, or stored to an external USB memory stick. Integrated source and power meter support CW, fiber-identifying test tones (270, 330, 1000, 2000 Hz), as well as AFL's Wave ID multi-wavelength, self-synchronizing insertion loss measurement mode.
Judge's comment: "Very nice form factor for field use with many useful features in the same unit. The live PON test features are a plus including the use of 1650 nm. The ability to insert between the ODN and ONU and provide a Link Map is a must for technicians managing active PON networks. Great test device for the installation, activation, and maintenance phases of PON networks."
Click here to return to the 2017 Lightwave Innovation Reviews page.