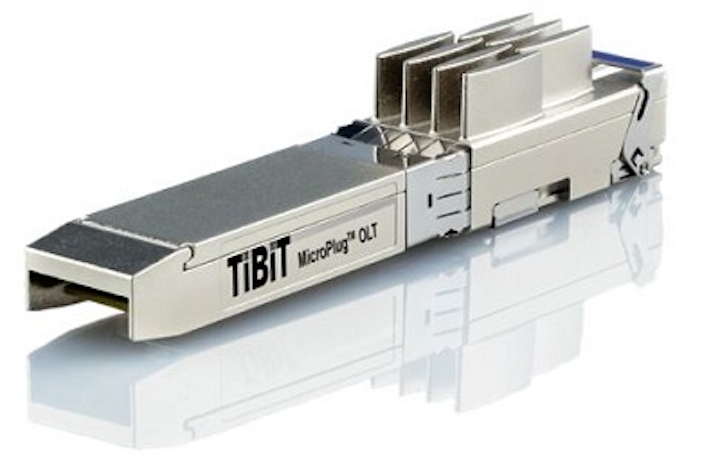 Tibit Communications has unveiled its Tibit MicroPlug OLT. The device is a full 10G PON optical line terminal (OLT) in an SFP+ optical transceiver form factor, the company asserts. Tibit says the device performs to 10G EPON and XGS-PON specifications; its website suggests it also plans NG-PON2 versions. The miniature OLT can plug into Ethernet switch ports to obviate the need for a separate 10G PON OLT platform.
The company expects the MicroPlug OLT to appeal to operators looking at next-generation architectures, including those based on Central Office Re-architected as a Datacenter (CORD) or Distributed Access Architectures that aim for significant reductions in power and footprint requirements – including, one might assume, those that use white box platforms. The MicroPlug is well suited for PON virtualization environments such as Virtual OLT - Hardware Abstraction (VOLTHA) and Broadband Access Abstraction (BAA), as well as DOCSIS Provisioning of EPON (DPoE), Tibit asserts.
"Our challenge was to do something never attempted in this industry -- reduce an entire OLT, including an entirely new ASIC and 10G optics, into a standards-based pluggable form factor," said Richard Stanfield, CEO of Tibit Communications. "The result is a product that saves an extraordinary amount of space and power, and we are encouraged by the strong market reception of this game-changing device."
Tibit says that samples of the MicroPlug became available in July, with general availability expected this November. The Tibit MicroPlug appears to have caught the attention of players in the service provider and technology vendor communities, based on testimonials it included in the product announcement.
"We have been specifically interested in remotely deployable PON solutions for the MSO market," said Colin Buechner, managing director, access networks, at MSO Liberty Global, via the Tibit press release. "Much of the challenge in this market is reducing the power consumption and heat dissipation of PON equipment that must be housed in outdoor cabinets. Tibit's solution directly addresses these concerns and supports the acceleration of 10G PON rollouts."
"Tibit's MicroPlug OLT removes the costs and footprint of traditional OLTs from the carrier network while extending PON access into an array of environments. This revolutionary new device will help us advance our innovation agenda, particularly across our Packet Networking portfolio," said Mike Nielsen, vice president, packet software and access R&D at Ciena.
Added Morgan Chase, global managing director, packet optical at Juniper Network, "We're excited about Tibit's MicroPlug OLT solution as we see it targeting specific architecture goals for many of our customers. The combined solution integrates PON directly with existing switch management solutions, including software-defined networking [SDN] systems."
For related articles, visit the FTTx Topic Center.
For more information on FTTx technology and suppliers, visit the Lightwave Buyer's Guide.