When deploying fiber in the access network, operators have long valued systems that use each fiber strand bidirectionally. The reasons are simple. This approach reduces the number of fibers required by 50%, which saves the capital cost, as well as the installation, termination, and maintenance of those fibers. Bidirectional optics also help to reduce various operational troubles, such as misconnecting a two-fiber link (splitting the pair) and asymmetrical fiber failures. They can also serve to increase the density of the equipment, as the optical connector is often what determines the form-factor. One only needs to consider the most numerous optical access systems, passive optical networks (PONs); they are all single-fiber bidirectional schemes.
Sometimes, though, a customer application requires so much bandwidth that it deserves its own fiber. Alternatively, some networks insist on independent fibers for administrative or policy reasons, such as open access or physical security/privacy. These cases call for bidirectional point-to-point links. In the original Ethernet in the First Mile (EFM) task force project, bidirectional optics running at 100 Mbps and 1 Gbps were standardized. The ITU-T recommendations G.985 and G.986 describe substantially the same systems as IEEE 802.3's EFM. These have seen a fair amount of use. But that was many years ago, and IEEE 802.3 has now standardized Ethernet interfaces up to 400 Gbps in the LAN and MAN. The point-to-point bidirectional standardization for the access network has lagged behind, and this is what the new IEEE 802.3 10-, 25-, and 50-Gbps optical access PHYs task force (expected to be designated IEEE P802.3cp) aims to address.
Applications for bidirectional access networks
What are the applications of bidirectional optics? There are three major ones: business, residential, and wireless access networks. The business access services are fairly obvious, as many customers with LANs need to interconnect them to each other and to the internet. Higher speed bidirectional optics enable the natural bandwidth growth in this sector.
Residential access services are a little different. As mentioned initially, the majority of fiber to the home (FTTH) networks are PON-based. PON is most suited for very large scale operators because they can afford to train their staff and adapt their operations systems to handle the peculiarities of PON. Small operators, such as municipalities and rural telephone and cable operators, don't have the economies of scale to enable PON. Also, their networks are much smaller, so the number of fibers is manageable. As a result, bidirectional optics are well suited for smaller access providers, and this is where they have seen the most use.
The third candidate is the burgeoning wireless access network. Fourth-generation wireless networks have been widely deployed and have whetted the market's appetite for more bandwidth. Fifth-generation wireless (5G) promises to bring much greater bandwidths as well as address new vertical markets such as self-driving vehicles, automation, and the Internet of Things. All of these things place greater demands on the fiber network that feeds the antenna sites, both in terms of transmission bandwidth and delay. Point-to-point optics are therefore a natural choice for these networks as compared to PONs or other transport systems.
Problem solving
What are the fundamental problems that need to be solved to support such bidirectional networks? The biggest issue has to do with the wavelengths. In the conventional two-fiber optical PHYs, both ends send and receive the same wavelength since the two fibers physically isolate the two directions. In single-fiber PHYs it is the wavelengths that are used for diplexing. This implies that bidirectional optics always come in two flavors: downstream-facing (at the operator end) and upstream-facing (at the user end). Figure 1 illustrates a bidirectional fiber link, naming all the component parts.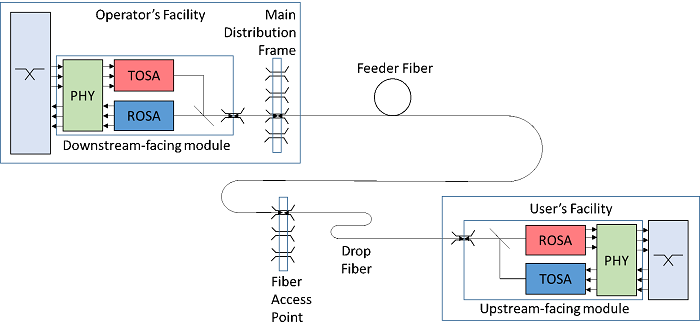 Figure 1. A bidirectional fiber link.
The choice of wavelengths has to balance several factors. One is the reuse of existing specifications, since this leverages the existing manufacturing supply chain. Another is the characteristics of single-mode fiber, which has favorable dispersion at wavelengths shorter than 1310 nm. A third factor is the separation of the two channels, as too narrow a gap will make the optical duplexing filters difficult to manufacture. All of these parameters will be discussed in the new project to find the optimal solution. Early discussions and contributions to the call-for-interest have suggested that 1330 nm downstream/1270 nm upstream might be an interesting solution, but that is speculative at this time.
Other issues that need to be addressed are fiber reaches and power budgets. Previous Ethernet standards have used 10 km and 40 km as their nominal reaches, and bidirectional optics will also support these. The 10-km reach is seen as a cost-effective option that covers most applications, and 40 km would be the costlier option, to be used when needed. For access networks, 20 km is commonly used as the maximum reach. Since the new fiber access will reuse the existing infrastructure (buildings, right-of-way, conduit), a 20-km version of bidirectional optics could be useful. The project has all three of these reaches in its scope; however, there is also a drive to limit the number of distinct PHYs. As for power budgets, the fiber loss in the expected O-band is 0.4 dB/km; however, practical links typically have several connectors and many splices that also add loss. Then there will be an allowance for optical and transmitter penalties.
Silent start behavior
One proposed feature that would be specific to optical access units is the so-called silent start behavior for user-end transceivers. This feature is needed because the access network may carry a mixture of PON and point-to-point links, it is dispersed over a wide area, and its fibers are not necessarily in a secure location. Technicians or others may attempt to plug a bidirectional user-end equipment into a PON fiber.
Figure 2 gives an illustration of the problem scenario, where Users 1 and 3 are properly connected PON and point-to-point users, but User 2 is a point-to-point user plugged into a PON splitter. If the bidirectional optics use the same upstream wavelength as the PON optics, then the incorrectly installed bidirectional user equipment can jam the PON transmission. This will disrupt communications to all the other users on the PON, and it is a failure mode that is rather difficult to troubleshoot. Silent start aims to reduce this risk by having the user-end optics power up in a non-transmitting but still receiving mode.
Figure 2. An illustration of the silent start situation.
The module and its associated electronics will first examine the incoming downstream signal. If it is a valid point-to-point Ethernet format (this can be determined by looking at the line code and frame format), then it can be assumed that the correct connection has been made, and the upstream transmitter can be enabled. However, if the signal is not correct (either missing or using a different code or format), then the transmitter will remain disabled and prevent the jamming from occurring. It also has the added advantages of eye safety and power saving, because the transmitter is not activated when the fiber is disconnected.
IEEE 802.3cp task force timeline
The anticipated timeframe for the IEEE 802.3cp task force to be fully authorized is December 2018, and the group should hold its first meeting in January 2019. Assuming no major controversies arise, a first draft may come out of the May 2019 meeting. After that there will be several rounds of comment resolution, leading to a final approval later in 2020.
However, vendors should have a very clear picture of the optics specifications by the end of 2019. This is important since it meets the market window for the intended applications. In parallel, the ITU-T Q2/15 group is developing recommendation G.9806, which will be a complementary standard in the ITU framework. The first version of this recommendation is expected June 2019, well coinciding with the IEEE schedule. We can expect full convergence between these two standards.
Ethernet Alliance member Dr. Frank Effenberger has worked in the optical access field at Bellcore, Motorola, and Futurewei Technologies, where he is now the vice president of the fixed access network lab. His team works on forward-looking fiber, copper, and coax access technologies, with several "world's first" prototypes and trials. Frank is a Fellow of the OSA, the IEEE, and Huawei, and holds over 100 U.S. patents.