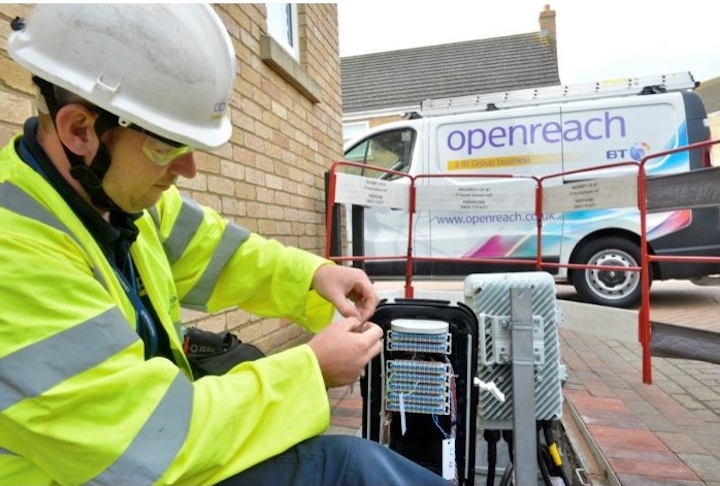 BT says that it has made the first customer connections of its G.fast field trial via its Openreach arm. The trial is being conducted in Huntingdon, a market town in Cambridgeshire.

BT and Openreach are conducting the trial as an open-access exercise. So any service provider can use the G.fast connections to reach clients in Huntingdon.

The UK incumbent expects to connect 2,000 homes and businesses as part of the trial. The G.fast network is able to support data rates of up to 330 Mbps, BT says. The service provider says it expects the technology will support speeds of 500 Mbps within the next 10 years.
Quoted G.fast data rates are commonly aggregates of upstream and downstream capacity. Whether BT is using this convention or expects 500 Mbps downstream in 10 years is unclear.

Assuming this and other planned trials go as expected, Openreach plans to start rolling it out in 2016 or 2017.

"Today is the start of a new chapter in building Britain's connected future. This is the largest trial of G.fast technology in the world and it builds on the pioneering research of BT's world-class R&D teams," said Joe Garner, CEO of Openreach.

The trial will run for 6 to 9 months. Eight communications services providers will participate in the trial. The G.fast technology comes from ADTRAN, Alcatel-Lucent, and Huawei.
BT has been an early and vocal supporter of G.fast, which uses a fiber to the distribution point architecture to increase the data rates copper access networks can support (see, for example, "BT targets G.fast for 500 Mbps"). While many have suggested G.fast will find its most common initial applications for the internal wiring portion of fiber to the building applications such as broadband connections to multiple-dwelling units, it's clear that BT sees the technology as beneficial in the outside plant.

For more information on FTTx equipment and suppliers, visit the Lightwave Buyer's Guide.