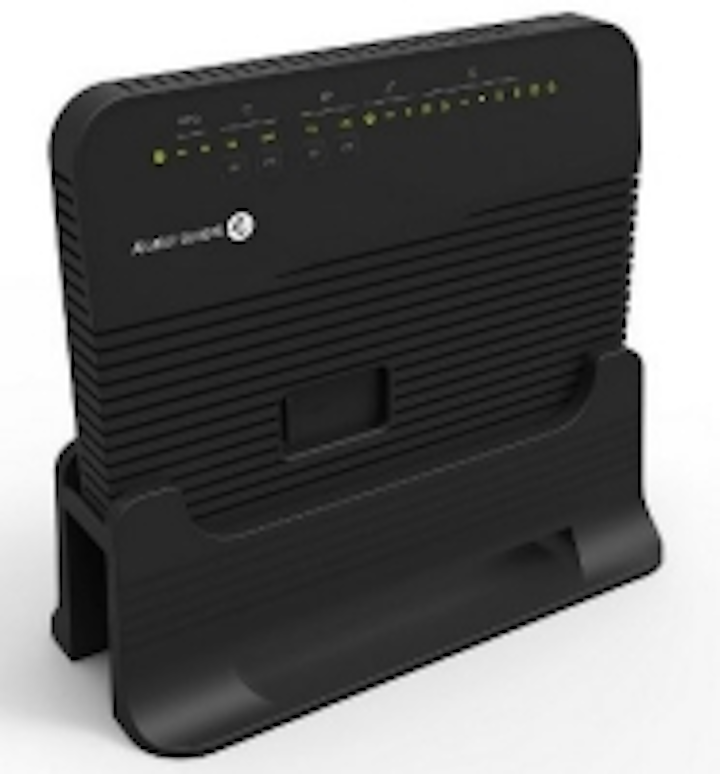 Alcatel-Lucent (Euronext Paris and NYSE: ALU) has unveiled a G.fast residential gateway designed for plug-and-play installation by the customer. The 7368 ISAM CPE also will support reverse powering of a G.fast distribution point unit (DPU), as well as dual-band Wi-Fi that will provide 1-Gbps wireless networking in the home.

The 7368 ISAM CPE also supports VDSL2, enabling service providers to plan a migration strategy from VDSL2 to G.fast at some future point. It is compatible with Alcatel-Lucent's DSL line cards as well as its DPUs. It also can pair with other standards-compliant G.fast DPUs.

As the gateway leverages the same home technology as the 7368 ISAM ONT G-240W-B residential gateway ONT, the new G.fast CPE enables operators to deliver the same broadband experience as those PON subscribers enjoy, Alcatel-Lucent asserts.

For in-home networking, the dual-band Wi-Fi (802.11ac/n on 5 GHz and 802.11b/g/n on 2.4 GHz) benefits from transmit power of up to 1000 mW. The residential gateway also offers SuperSpeed USB 3.0 support.

"Operators today are racing to deliver gigabit services to subscribers and making significant investments in new technologies that can help accelerate ultra-broadband deployments. G.fast is quickly proving to be a great way to do this in areas that are too complex or expensive to fully deploy FTTH solutions," according to Jeff Heynen, research director for broadband access and pay TV at IHS. "With solutions such as Alcatel-Lucent's new G.fast CPE, operators can quickly and easily deliver on the promise of fiber network speeds and provide end users with the full ultra-broadband experience they have come to expect across both wireless and wired devices in the connected home."

For more information on FTTx equipment and suppliers, visit the Lightwave Buyer's Guide.