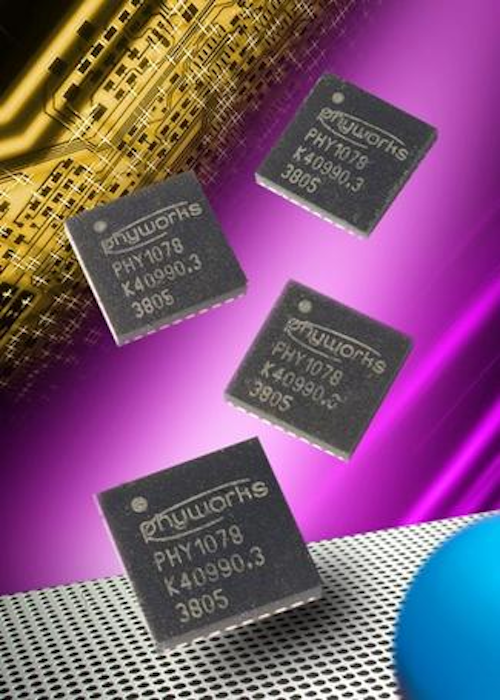 October 11, 2005 Bristol, UK -- Phyworks has released its PHY1078 integrated burst mode laser driver and post amplifier. According to the company, the highly integrated optical interface for FTTX applications is designed for use in passive optical network (PON) customer premises applications.
The chip supports data rates between 155 Mbit/sec and 2.5 Gbit/sec, making the device suitable for both GEPON systems based on IEEE 802.3ah standard, and for GPON systems based on ITU G.984.2. According to the company, by integrating an "on-chip state machine," the PHY1078 acts as a combined driver and receiver, allowing for the construction of optical modules without the need for a microcontroller. Also, the company says the chip's design provides a high sensitivity receive path with very low crosstalk, typically less than 0.2dB, and a laser driver with performance exceeding the requirements of both the GEPON and GPON standards.
"This is the first time that both the technical and cost goals of PON module suppliers wishing to enter markets governed by differing standards requirements have been met at the same time," contends Brad Weaterton, product line manager at Phyworks. "When combined with Phyworks' development tools and applications support capability, the PHY1078 provides the most complete product offering available, reducing development cost and time-to-market."
The company says the chip's transmit block includes a high frequency modulator and a laser bias current generator. Bias current can be controlled by using either a burst mode Automatic Power Control loop or an open loop mode based around a temperature lookup table. Driver parameters are set by on-chip registers, loaded from an external EEPROM.
The receiver includes a limiting amplifier, with programmable bandwidth. A loss of signal (LOS) function is implemented using optical modulation amplitude with user selectable threshold and hysteresis.
The PHY1078 is supported by a full suite of design tools, including reference designs, Graphical User Interfaces and evaluation platforms. The chip comes in a 32-pin, 5-mm x 5-mm, RoHS-compliant QFN package and is priced at less than $2.00 in volume.