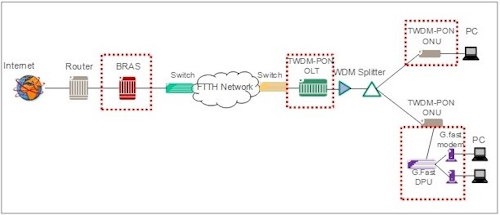 Energia Communications and Alcatel-Lucent (Euronext Paris and NYSE: ALU) have partnered to work out the systems vendor's G.fast and TWDM-PON technologies for possible use in Japan, the companies say. The trials aim to position Energia to eventually provide such bandwidth-intensive services as 8K television when the first such broadcasts begin in Japan in 2016.

The trial sees Energia using TWDM-PON for both fiber to the home (FTTH) as well as to feed G.fast distribution point units (DPUs; see illustration above). Energia envisions using G.fast to support up to 1-Gbps data rates to subscribers not easily reached via fiber, such as subscribers in multiple-dwelling units (MDUs). Other Alcatel-Lucent trial partners have expressed interest in similar applications for G.fast (see "First G.fast customer connected by Telekom Austria's A1 as part of trial").

TWDM-PON's four wavelengths are architected to run alongside existing PON wavelengths on the same fiber; the trial so far has proved this is the case, the two parties say. The Energia's current FTTH infrastructure runs EPON.

In addition to the TWDM-PON and G.fast gear, Energia is using Alcatel-Lucent's IP/MPLS 7750 Service Router to backhaul traffic from the access aggregation network to the core.

Alcatel-Lucent announced TWDM-PON capabilities last fall (see "Alcatel-Lucent unveils TWDM-PON"). It unveiled its first G.fast offerings in the same time frame (see "G.fast ONT available early next year says Alcatel-Lucent").

For more information on FTTx equipment and suppliers, visit the Lightwave Buyer's Guide.