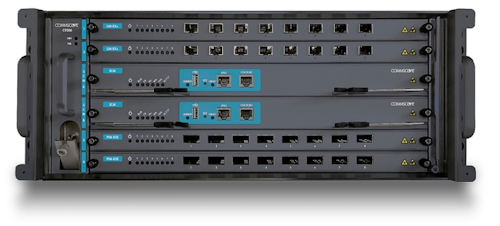 CommScope (NASDAQ: COMM) plans to use next week's Internet and Television Expo (INTX) in Chicago to show off a new 10G EPON optical line terminal (OLT). Based on DOCSIS Provisioning of EPON (DPoE), the C9516 EPON OLT would appear to be well timed, given Comcast's plans for symmetrical 2-Gbps services via fiber to the home (FTTH; see "Comcast one ups Google Fiber, AT&T with 2-Gbps broadband in Atlanta").

CommScope has been active in DPoE for some time, offering the 1-Gbps C9500 OLT (see "CableLabs qualifies first set of DPoE hardware"). The C9516 OLT supports both 1G and 10G EPON in a temperature-hardened platform. CommScope asserts the new platform is the first available to cable operators that combine high-temperature operation with 10G EPON DPoE capabilities.

While FTTH equipment suppliers have privately said that cable operators large and small have been quietly using their equipment for some time, larger operators such as Comcast, Cox, and Bright House Networks have become more public in their embrace of fiber-optic broadband technology over the past year. Comcast in particular has drawn attention for its recent announcement of 2-Gbps FTTH deployment plans. While the operator has not discussed the technology it expects to use to support the new services, 10G PON is a natural fit. Conventional GPON and EPON would not support the 2 Gbps upstream that Comcast says it will offer.

This, of course, leads to the question of whether CommScope is supplying – or at least hopes to supply – the C9516 OLT to Comcast. CommScope Corporate Communications Manager Joe Depa said in an email it was against corporate policy to discuss customers without their permission. However, he wrote the new OLT is in limited availability, with production underway. General availability should occur in June.

"The solution is presently being tested by our customers," he added.

For more information on FTTx equipment and suppliers, visit the Lightwave Buyer's Guide.