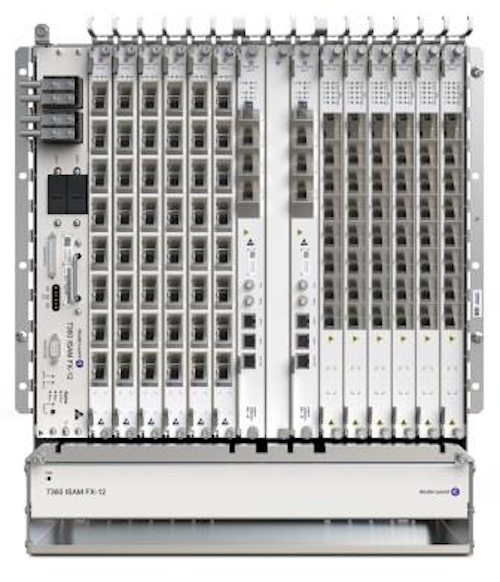 Alcatel-Lucent (Euronext Paris and NYSE: ALU) used INTX 2105 in Chicago this week to unveil the FX-12, a compact addition to the 7360 ISAM FX line that supports the growing interest among cable operators in 10G EPON.

At the show, Alcatel-Lucent Global Leader, Cable Solutions & Strategy Vik Saxena said the new platform was designed to meet the needs of a specific Tier 1 cable operator (this one, I'm guessing). The system is in lab trials and should be generally available in the next few weeks, he said.

The FX-12 incorporates DOCSIS Provisioning of EPON (DPoE), a set of specifications CableLabs established to make PON systems compatible with the DOCSIS operating system cable operators employ to manage their hybrid fiber/coax (HFC) networks (see "CableLabs preps EPON for MSO business services support"). Alcatel-Lucent announced DPoE capabilities and a customer in October 2013 (see "Alcatel-Lucent unveils DPoE platform, signs Bright House Networks"). While Alcatel-Lucent hasn't announced other DPoE customers since then, Saxena and other Alcatel-Lucent sources reported that they have some.

Saxena reported that cable operators worldwide are expressing interested in PON technology, both EPON and GPON; Alcatel-Lucent can support either via the 7360. CableLabs also has begun work on DOCSIS Provisioning of GPON specifications.

The FX-12 supports 12 slots in a 19 inch-wide shelf and can deliver both 1G and 10G EPON as well as support point-to-point architectures. It is hardened to enable deployment in field huts.

Alcatel-Lucent unveiled the FX-12 shortly after CommScope unveiled its 10G EPON offering for cable operators (see "CommScope to unveil 10G EPON OLT at INTX"). The announcements signal a growing interest in 10G EPON technology among cable operators.

For more information on FTTx equipment and suppliers, visit the Lightwave Buyer's Guide.