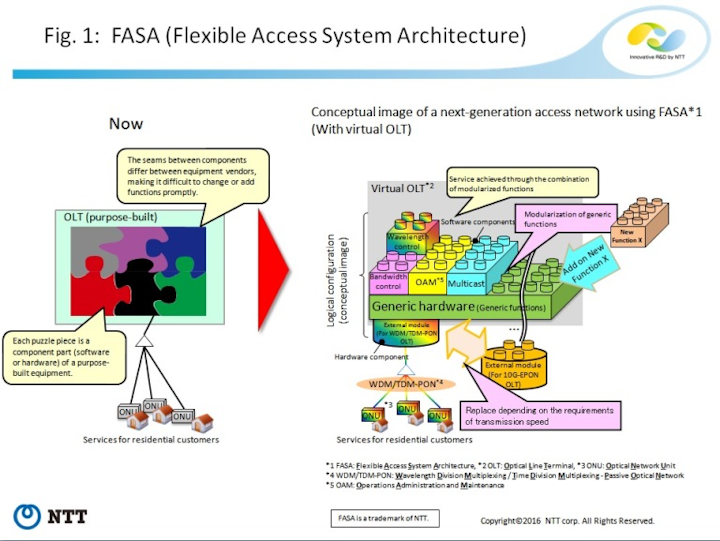 Nippon Telegraph and Telephone Corp. (NTT) says it has unveiled its Flexible Access System Architecture (FASA), which aims to provide greater flexibility for fiber to the home (FTTH) networks through the use of virtualized functions. This includes a concept for a white-box optical line terminal (OLT).

Developed as part of NTT's NetroSphere effort to meet future communications needs, FASA looks to move from application-specific hardware such as proprietary OLTs to low-cost, modular, software-enabled platforms that can adapt quickly to changes in service. For example, the FASA OLT would combine software components, generic hardware, and external modules (see illustration above). The modules would address functions, such as optical transmission, that neither the software components nor generic hardware could support easily, while maintaining the flexibility the removal of purpose-built hardware would create.

NTT sees FASA as an avenue toward support of immediate service provision through rapid software and, if necessary, module exchange. To promote an open access environment and ensure efficiency, NTT says it has embarked on development of APIs for FASA with multiple suppliers. These APIs will be released "in phases," with the first scheduled for launch this May.

NTT plans to run FASA through its paces via the NetroSpherePIT testbed at the NTT R&D Forum 2016, February 18-19, 2016, at the NTT Musashino R&D Center (Musashino, Tokyo).

NTT says it will cooperate with international and domestic equipment vendors, carriers, and others on further development of FASA or related approaches. Work is going on elsewhere to virtualize aspects of the access network, with the Central Office Re-architected as a Data Center (CORD) perhaps the best known (see "AT&T, ON.Lab to lead CORD proof-of-concept demonstration").

For more information on FTTx equipment and suppliers, visit the Lightwave Buyer's Guide.