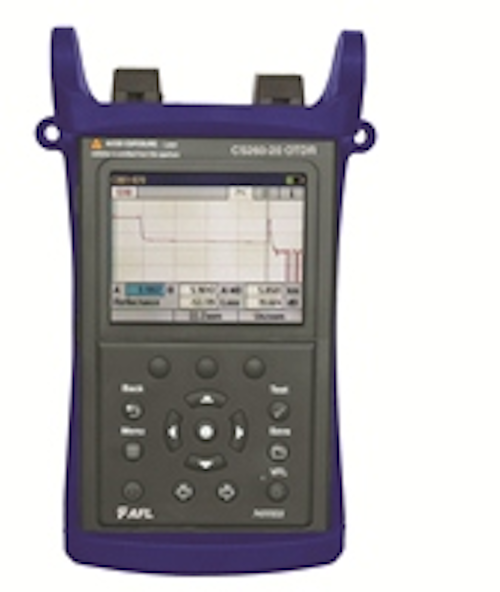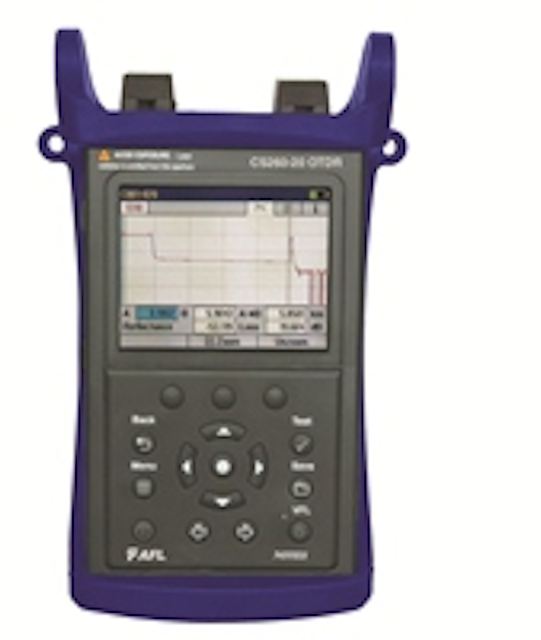 AFL now offers a new line of Contractor Series handheld OTDRs aimed at FTTx PONs and point-to-point metro/access network test requirements. The CS260 OTDR family includes the CS260-10 FTTx PON Activation and Troubleshooting OTDR and the CS260-20 Metro/Access Troubleshooting OTDR.

The CS260-10 is a 1625-nm live PON OTDR with 35-dB dynamic range, 0.8-m event and 3.5-m attenuation dead zones, an integrated PON power meter, and a visual fault locator (VFL). Via the integrated PON power meter, the CS260-10 enables technicians to verify PON power levels at an FTTx PON ONU or ONT. If trouble is detected in the downstream, the CS260-10's live PON OTDR enables a technician to scan the network from the ONU/ONT or a network access point to locate fiber faults. The live PON OTDR uses an out-of-band 1625-nm wavelength to prevent disruption to the 1310-, 1490-, and 1550-nm signals present on an in-service PON.

The CS260-20 is a 1310/1550 OTDR with 28-dB dynamic range, 0.8-m event and 3.5-m attenuation dead zones, and an integrated VFL. The instrument is designed to troubleshoot point-to-point metro/access networks operating in the 1310- and/or 1550-nm wavelength regions. Its short dead zones enable precise location of fiber faults, AFL asserts. Thanks to the 28-dB dynamic range, the CS260-20 can locate faults in networks up to 60 km (40 miles) in length, the company adds.

CS260 OTDR results from both units can be saved in industry-standard .SOR files and uploaded to a PC via the built-in USB interface. Windows-compatible TRM Test Results Manager software supports trace review, batch editing, and professional test report generation

"A large number of network operators utilize contractors to install and verify new metro and broadband access networks, including Fiber-to-the-Home PONs," explains Michael Scholten, senior product marketing manager for AFL's NOYES Test and Inspection division. "Those same network operators often don't want to subcontract customer-facing network activation and maintenance tasks. These operators must equip their direct staff to verify signal levels at the subscriber, install and activate premise equipment, and troubleshoot any problems."

For more information on field test equipment and suppliers, visit the Lightwave Buyer's Guide.