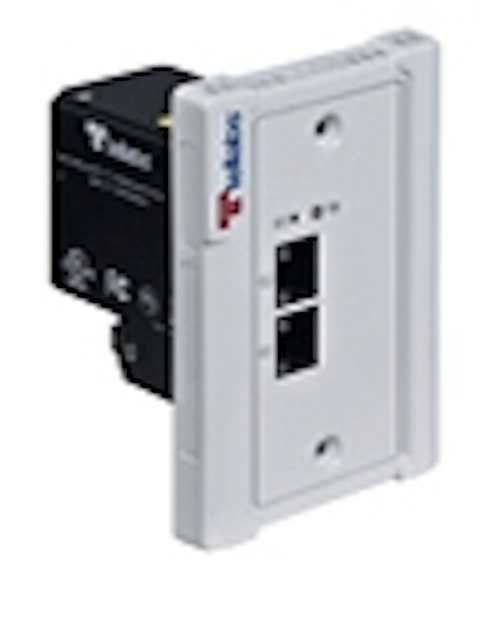 Tellabs has introduced the 100 Series Mini Optical Network Terminals (ONTs). The indoor ONTs are designed for in-wall or in-cubicle mounting, presenting an interface to the user that is about the size of a standard Ethernet faceplate. The ONTs are initially targeted for use with Tellabs' passive optical LAN technology, but the company also showed off the ONT at the FTTH Conference in Dallas this past week as an attractive alternative for FTTH networks using indoor GPON ONTs. The new Mini ONTs provide a number of benefits, Tellabs asserts:
Removing the ONT from the desktop reduces cabling requirements and the chances for damage or theft
Reduction of space requirements in the communication closet
Eliminates the need for fiber jumpers and standard desk/wall mounts
Remotely powered from the communications closet via Power over Ethernet (PoE), the units require no power or battery backup
Lower deployment costs.

"Tellabs Optical LAN saves government and enterprise customers money, energy and space. The new Tellabs Mini ONT makes Optical LAN even better because it fits in your hand, yet offers cutting-edge enterprise ONT features," said Dan Kelly, acting president and CEO of Tellabs, via a company press release. "Our new Mini ONTs install in a wall outlet, which enterprises are used to. Still, they deliver all the cost, efficiency and security advantages of optical LAN."

The ONTs come in two formats:

The Tellabs 120W ONT installs in office or home walls using a standard single gang form-factor. It provides two Gigabit Ethernet interfaces with Power-over-Ethernet to the user.
The Tellabs 120C ONT installs in standard cubicle raceways with the same interfaces and feature set as the Tellabs 120W ONT.

The first Tellabs 100 Series Mini ONTs are scheduled for release in the fourth quarter of 2012. The new Tellabs 100 Series Mini ONTs will be generally available in early 2013.

The Tellabs 100 Series Mini ONT also are designed to support future extension modules to provide WiFi, CATV, additional Gigabit Ethernet ports, telephone jacks, and ZigBee wireless connectivity. The first extension modules will become available in 2013.

For more information on FTTx systems and suppliers, visit the Lightwave Buyer's Guide.