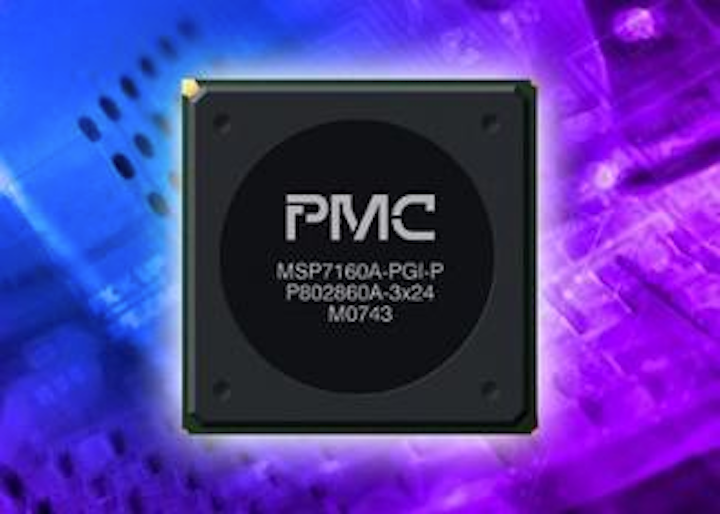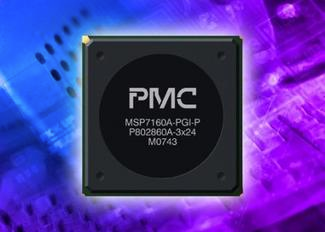 DECEMBER 3, 2007 By Stephen Hardy -- PMC-Sierra (search for PMC-Sierra) has unveiled a new SoC for integrated GPON ONT/residential gateway platforms. The MSP7160, sampling now, enables the development of what the company calls "fiber access gateway" units, indoor CPE that would combine the functions of the PON ONT, now typically installed outside the home, with in-home residential gateway platforms.
According to Dror Sal'ee, director, strategic marketing, at PMC-Sierra's Communication Products Division, the device combines the company's expertise in residential gateways with the PON technology it acquired when it purchased Passave to create a device that supports 1-Gbit/sec IPv4 or v6 routing, network address translation, and quality of service features. In a conversation last week, Sal'ee pointed to the use of a hardware multi-threading architecture as a key enabler of high performance at reasonable cost and power dissipation. The architecture, enabled by a MIPS 600-MHz processor, is designed to enable hitless context switching between simultaneous processing of tasks for different services. It also supports programmable packet processing acceleration.
Features of the device -- which also is available as part of the PM2333-KIT GPON fiber access gateway reference design -- include GPON and OMCI interoperability, processor headroom for future services, on-chip VoIP TA, and a Linux software environment. In addition to the MIPS processor, the SoC includes an integrated GPON MAC and SerDes, voice support, and a VPN IPSec engine.
Having announced a chip for the design of integrated ONT/gateway platforms, the question for PMC-Sierra is how quickly systems houses will want to design and offer one. As reported previously in Lightwave, U.S. incumbents such as Verizon and AT&T haven't publicly stated that their GPON roll outs will use anything other than outdoor ONTs. Some have speculated that France Telecom might have interest in an indoor hybrid device; while he wouldn't name names, Sal'ee agreed that a hybrid ONT/gateway platform might first find favor in Europe.
PMC-Sierra isn't the first company to announce an SoC for such a hybrid platform. Conexant (search for Conexant) was the first company to jump into the space with its Xenon-IIIG; BroadLight (search for BroadLight) quickly followed with the announcement of its BL2348. The latter was to begin sampling by the end of this year, while Conexant said in May when it announced the Xenon-IIIG that it was available for sampling at that time. Sal'ee says he hasn't seen evidence of either chip in the market so far.
Sal'ee also says that a chip to support integrated ONU/gateway platforms for GE-PON might make sense in the future. Several Asian carriers have already deployed such an indoor platform. However, most of these run at Fast Ethernet speeds, so carriers may look to upgrade to platforms capable of accommodating Gigabit Ethernet rates.
Visit PMC-Sierra
For more FTTH news and resources, visit the FTTX Resource Center