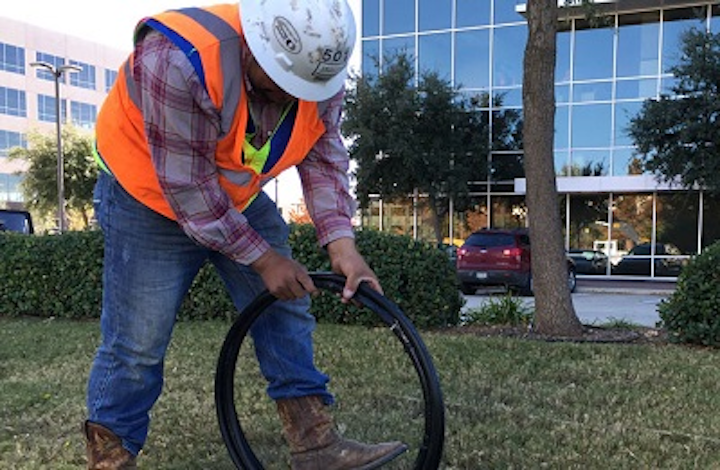 AT&T says it plans to extend its move toward open, white box platforms into the next-generation PON realm with a field trial of XGS-PON. The trial, scheduled for late this year, will see the virtualization of several XGS-PON functions as well as the likely use of open white box hardware.
"Software-defined networks and XGS-PON are a natural step along the evolutionary path of PON technology," said Eddy Barker, assistant vice president, Access Architecture and Design at AT&T, via a press statement. "This is another way we're enhancing our network and staying ahead of changing consumer and business needs."
AT&T has participated in several open software initiatives, including development of the Open Network Operating System (ONOS) with ON.Lab as well as the Virtual Optical Line Terminator Hardware Abstraction (VOLTHA, alternatively vOLT-HA) software effort (see "ON.Lab, backed by AT&T and NTT, offers open source SDN operating system"). The carrier has developed an OpenOMCI specification to support creation of an interoperable interface between the OLT and the home devices. (Verizon has completed a similar effort to back its NG-PON2 initiative.) The service provider also participated in the Central Office Re-architected as a Datacenter (CORD) initiative, which seeks to promote open, software-defined networking (SDN) capabilities for access networks (see, for example, "AT&T, ON.Lab to lead CORD proof-of-concept demonstration").
On the hardware side, AT&T has submitted draft specifications to the Open Compute Project's Telco Project for white box optical line terminals for both GPON and XGS-PON. The latter specifications that could apply to the upcoming trial include ones for a MicroOLT, 4-port OLT, and 16-port OLT (available via the Telco Project's Wiki page).
While reliance on the Open Compute Project specifications opens the door for several OEMs and systems integrators to supply hardware for the upcoming trials, at least a few mainstream suppliers could be in position to support AT&T. Calix (in partnership with Ericsson) and ADTRAN have pursued SDN-friendly, open systems for Verizon's NG-PON2 evaluations (see "Ericsson/Calix, ADTRAN prep for Verizon NG-PON2 finals" and "Calix unveils Verizon NG-PON2 platform, the AXOS E9-2 Intelligent Edge System"). Both have touted their ability to work with VOLTHA. Nokia and Fujitsu Network Communications are working with AT&T on the carrier's OpenROADM initiative; Nokia also has worked on SDN-friendly PON gear, while Fujitsu Network Communications has shown a PON-based member of its 1FINITY disaggregated optical system line at trade shows in the past.
For related articles, visit the FTTx Topic Center.
For more information on FTTx technology and suppliers, visit the Lightwave Buyer's Guide.