Laser-optimized multimode finally gains some traction
Sep 1st, 2004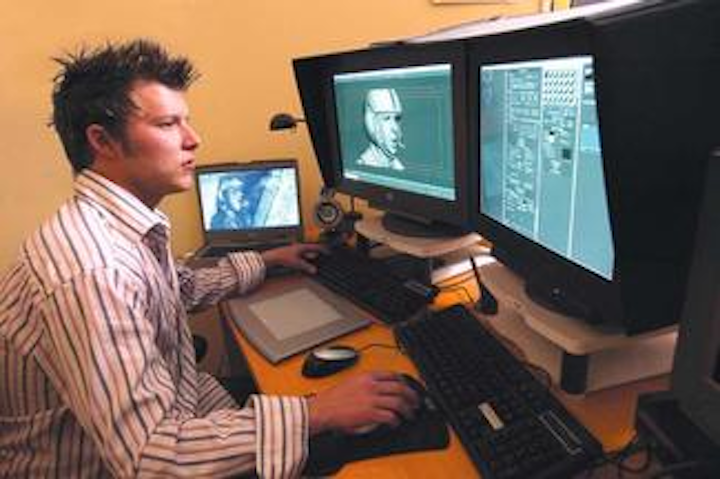 Just as 10-Gigabit Ethernet (10-GbE) sparked a new era in transceivers, the standard also ushered in a new generation of optical cable. Laser-optimized 50-µm multimode (MM) promises to support10-Gbit/sec transmission distances of 300 m and more -using 850-nm VCSEL transceivers. However, customer reluctance to abandon 62.5-µm cabling and a growing -interest in singlemode (SM) have created hurdles to market acceptance that vendors have only recently begun to overcome.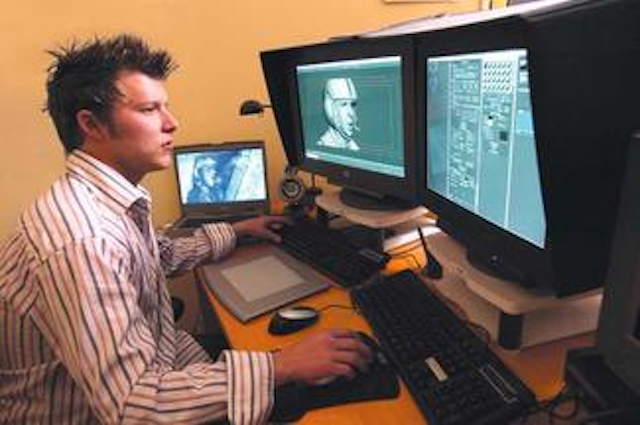 Courtesy of Silicon Graphics & the Orphanage. Monitor images property of 20th Century Fox
High-bandwidth applications, particularly those that require the manipulation of large file sizes, have driven a need for high-speed optical backbones that laser-optimized multimode-fiber cabling attempts to fulfill.
Laser-optimized fiber became necessary when it was discovered that legacy 62.5-µm MM supported serial 10-Gbit/sec transmission distances of <100 m due to differential mode delay (DMD) problems. The IEEE created a PMD for such fiber, the WDM-based 10GBase-LX4, that will support 300 m over legacy MM, but economical versions of the requisite transceivers have been slow to appear (see Lightwave, July 2004, front page). The new 50-µm fiber offers an option for those who want to go 100 m or more without switching to SM and the more expensive optoelectronics required by that type of fiber.
However, not everyone needs to go more than 100 m, which has led some premises-network designers, particularly those looking to extend existing 62.5-µm MM networks, to shun the new cabling-even when adding a new building to the network. "It's almost as if they want to standardize on 62.5 across the corporation, and there's no real benefit to that when the building is entirely separate," comments Tim Waldner, senior vice president of marketing at Superior Essex (Atlanta). If the building isn't separate, however, several vendors said the difficulty of intermating 62.5- and 50-µm cabling provides a legitimate excuse for sticking with the former.
The cost of laser-optimized MM also may inspire user reluctance. The new cabling can come at a premium ranging from 20% to 75% over standard 50-µm MM, according to industry sources. Most vendors offer several grades of laser-optimized MM cabling-usually guaranteed for distances of about 100, 300, and 500 m, respectively-and it is the difference between the 500-m enhanced cabling and standard 50-µm where the price disparities are likely to reach the upper edge of the sources' price estimation range. Sources say that at the 100-m level, users might find the price difference insignificant.
However, the benefits the new cabling provides-particularly the ability to smoothly handle a transition from GbE to 10-GbE-plus a growing familiarity with 50-µm fiber, have begun to attract attention.
"The value proposition of 50-µm as a workhorse multimode fiber in North America is finally sinking in," reports Beni Blell, fiber-optic product business manager at Berk-Tek, a Nexans company (Fuquay-Varina, NC). "Basically, 50-µm delivers significantly higher bandwidth, and considerably better distance guarantees for both Gigabit Ethernet and 10-gig, at a much more competitive price than 62.5."
"There's still some reluctance on the 50-µm side," adds Mike Connaughton, fiber-optic sales manager at Mohawk, a Belden CDT company (Leominster, MA), "but I think that's fast falling away. As the installed base starts to grow, people are feeling less like a guinea pig in the process, that it's a proven technology."
On the other end of the spectrum, the new cabling also has garnered the attention of network managers who previously would have turned to SM technology to meet their distance requirements. "If you look at the cabling, singlemode cable is cheaper than multimode cable in general. But when you get into the connectors and definitely when you get into the electronics, singlemode gets to be a much more expensive solution overall," explains David Hall, marketing manager, private networks, at Corning Cable Systems (Hickory, NC). "So there's an ongoing need for multimode fiber to keep the total system cost down to where it's affordable."
For many users, the tradeoff between SM and the laser-optimized MM comes down to the nearly limitless bandwidth and transmission distance potential of the former versus the lower overall system cost of the latter. Andrew Oliviero, senior product manager for multimode optical fiber at OFS (Norcross, GA), reports that some users have already begun to think about 40-Gbit/sec traffic and whether MM cabling would cap their networks at 10 Gbits/sec. Oliviero believes that an 850-nm WDM-based approach to 40 Gbits/sec, similar to the LX4 at 10 Gbits/sec, would enable today's laser-optimized MM cabling to jump to higher speeds. Just in case, however, he sees some users opting for composite cabling that combines MM and SM to ensure they have their bases covered.
When it comes to distance, many users start looking at SM once their requirements exceed 300 m, according to Kurt Templeman, product manager, enterprise networks, Sumitomo Electric Lightwave (Research Triangle Park, NC). "We find that, with an awful lot of people, when you start to hit applications of 500 m, a lot of them tend to be looking more at the singlemode and switching gears altogether," he adds. But he reports that several users are pushing the enhanced laser-optimized fiber beyond 500 m to avoid making such a switch.
The first adopters of the new cabling tend to have networks in need of upgrade and who see a near-term requirement for support of 10-Gbit/sec traffic. Data centers that handle large amounts of Web-based traffic or that support supply-chain management, call centers, and SAN applications represent a big market, according to Mike Barnick, senior manager of solutions marketing at SYSTIMAX Solutions, a Commscope company (Richardson, TX). These companies include financial institutions, semiconductor developers, and software houses.
Having deep pockets also helps. "The financial institutions and universities are good because they tend to have the luxury of having enough cash to actually save money looking forward-they can spend the money today to save the money tomorrow," Connaughton says. "Medical, in general, I would put into that category as well."
The increasing adoption of laser-optimized MM cabling has helped spark a general transition from 62.5- to 50-µm offerings. According to Patrick Fay, a senior analyst at KMI Research (Providence), 10-Gbit/sec MM cabling rose from 2% of the worldwide MM cabling market in 2002 to 3% last year. Meanwhile, the amount of 50-µm fiber in general is expected to reach about 50% of the MM market by the end of next year (see Table), based on a report KMI issued early this year. A new report is expected by year's end.

Meanwhile, industry sources agree in general with the KMI figures-much to the relief of some. "It's beginning to," Connaughton says of the technology's market traction meeting his expectations. "If you'd have asked me a year ago, I would have said no, and I would have expected us to have more of a position by the time we got to today. So there was a definite lag in the traction taking hold. But today, I believe it has taken hold."
"I think it's going to increase," agrees Waldner of Superior Essex, who adds, "Whether or not it ever overtakes standard 50-µm, I guess I have my doubts there."
The factors that will influence the market in the future include the advent of new transceivers for 62.5-µm MM (based on the work now underway on the 10GBase-LRM PMD as well as LX4 devices) and new standards for copper-based transmission.
"I think that a lot of the customers who are planning on using copper in the 10-gig space are kind of holding their breath, waiting to see if they can have reliable products on the copper side," reports Paul Neveux, director of premises cable product management at Superior Essex. "I'm thinking that as soon as those issues are resolved, people are going to say, 'Well, I want the high reliability of a laser-optimized fiber,' and they're going to go the fiber way rather than the copper."